The Indie 500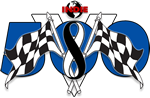 Help end the vicous practice of forced disconnection by putting your name on the list.
Did you know?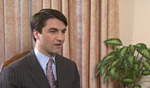 David Miscavige has declared 98% of Hubbard's staff from the most famous Church of all time, Old Saint Hill. Does that strike you as odd? More...
Why Criticism Upsets Some Scientologists

Here's why Scientologists are so touchy about their religion.
More...
Insanity
Is defined as "the overt or covert but always complex and continuous determination to harm or destroy."
L. Ron Hubbard
Disconnection
OCT 26, 2009:
Tommy Davis told AP News
,
"The church doesn't mandate disconnection with anybody."
He also told
John Roberts on CNN
,
"There's no such thing as disconnection… There isn't any such policy in the Church dictating who you can and cannot be in communication with, it just doesn't happen."
LRH canceled disconnection
in HCO PL 15 Nov 1968, Cancellation of Disconnection.
Suggestion: Decide enough is enough and reconnect with old friends and family.
They're Baaaack!
"Friends of LRH"
is back online after being attacked by Ava Paquette of OSA. They reorganized and are here to stay. Tell your friends and visit them at
www.friendsoflrh.org
Order Book

Amy Scobee's
book,
Scientology - Abuse at the Top
was released on May 9th, 2010. It reveals the nightmare world of violence and abuse that she personally witnessed and experienced inside the Church of Scientology. Book design by
Jeff Hawkins
. Website by
Steve Hall Creative
. Click
here
to order. Kindle version available at
Amazon.com
By any other name, MASS MURDER
For some 30 years after DAVID MISCAVIGE assumed leadership of the Church of Scientology, hundreds of parents were FORCED to abort their children. Please watch the following video to its very end to understand what that really means. When you've watched this video to its final words, ask yourself what kind of "church," what kind of "religious leader," would force parents to commit this kind of atrocity?
&
TESTIMONY OF DAVID MISCAVIGE CRIMES
David Miscavige ordered a staffer to smack Debbie Cook, who did, knocking Debbie to the floor, and another to break her finger while she was at the Church's International Headquarters in 2007.
DEBBIE COOK: "We were made to do these confessions...one time in front of 100 people, yelling at you. I was put in a trash can, cold water poured over me, slapped. One time it went on for 12 hours...There were times I was accused of being a homosexual, a lesbian..."
Karen de la Carriere Blog

Scientology-cult.com is proud to welcome Karen de la Carriere and host her Surviving Scientology video blog aka "If you can't stand the heat, get out of the blog!" Discover fascinating details on how the Church of Scientology has become one of the world's most oppressive and corrupt organizations.
#1 ON THE NEW YORK TIMES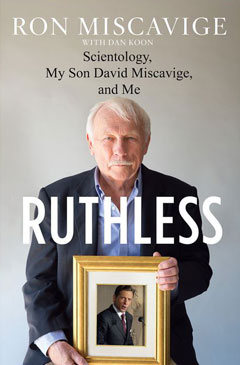 First announced right here, RUTHLESS, Scientology, My Son David Miscavige, and Me by Ron Miscavige became a #1 bestseller according to the New York Times. This is the revealing story of David Miscavige's childhood and his dark path to the rotten core of the Church of Scientology as seen through the eyes of his own father. The book was co-written by Dan Koon who has posted many articles on this site under the pen name, "Joe Howard" and is intended against the vicious practice of "disconnection." Order your copy on Amazon.
Busted!

Trying to police other people's religious
beliefs
leads nowhere because it's the wrong target. A
belief
is just a thought; it's not an
action
. Allow people to believe whatever they want. The correct target is
criminality
.
The reality of coerced abortions
In 1997, in response to the high volume of Scientology staff sent to have abortions, the head of Planned Parenthood in Riverside, CA (Janet Honn-Alex) said, "I just felt that it was strange that they would all make the same decision. Independent of their individual circumstances, they had all made the decision to have an abortion, no matter how old they were or how many children they already had. We found that almost unbelievable. And when we started asking more questions, in order to find out their individual motives, because we were suspicious, they stopped coming to us altogether."
In the Wrong Hands: Scientology
"...on four occasions
David Miscavige physically assaulted and violently battered individuals
in my presence, sending a strong message that anyone in the room was likely to be next..."
Learn more...
Portrait of a Ponzi Man

"Scientology was intended to help people. David Miscavige has turned it into a massive Ponzi scheme. Here's how his carefully guarded system actually works..." Learn More...
Secret History of David Miscavige
by
Gang of Five
(New Author!)
"Miscavige got out a tire jack and went over the pay phone where Pat was waiting to call for help and smashed the public pay phone so it wouldn't work... Needless to say this scared the crap out of Gale. Then he grabbed her..."
Learn more...

Spearheading a Rogue Church
by Mirror (New Author!) 
"I happened to see Mr. Miscavige physically attack staff twice. Once he was furious with Ray Mithoff and shoved him so hard that Ray fell into a free-standing coat racks, and he and the rack came crashing down... And on the other occasion I saw Mr. Miscavige hit one of his own RTC staff in the stomach." Learn more...

MECHANISMS OF MISCAVIGE by T Paine
"There are exact mechanisms Miscavige has used and continues to use in order to dominate, control and enslave those around him..."  Learn more...
What You Can Do

"There is a time when real Scientologists have to stand up and recover their own sense of right and wrong. LRH defined it as
personal integrity:
having the courage to observe what you observe, and say what you have observed..." 
Learn more...