Wednesday, 13 May 2009 15:22
Scientology was intended to help people. Used correctly, it does just that. David Miscavige has turned it into a massive Ponzi scheme. Here's how his carefully guarded system works:
International Events
After Hubbard died in 1986, David Miscavige kicked off a schedule of "international" events. Each event is global in scope and all Scientologists are commanded to attend "to get briefed up on the latest wins, news, and new releases." Per LRH, this is what the various Scientology magazines are for.

In actual fact, Hubbard banned all future international events in 1977 because they knocked everyone off post to prepare for the event instead of doing their routine daily actions which are vital. The Central Bureaux Order (CBO) in which Hubbard issued that order is not well known, but it does exists. Naturally it was suppressed by Miscavige.

The schedule of events repeats throughout the year; the six largest events include,
January: New Year's Event
March: LRH's Birthday Event
May: Anniversary of the release of Dianetics
June: Anniversary of the Freewinds (ship) Maiden Voyage
August: Auditor's Day
October: Founding of the IAS (stands for "International Association of Scientologists")
As you can see, there is a major event roughly every 2 months throughout the year.

Massive boiler rooms were organized and eventually computerized to get the phone numbers of all Scientologists. Scientologists are called and re-called until they confirm their "attendance." Staff and volunteers in local Churches and Missions are forced to do "call-in" for the event.
Propaganda Machine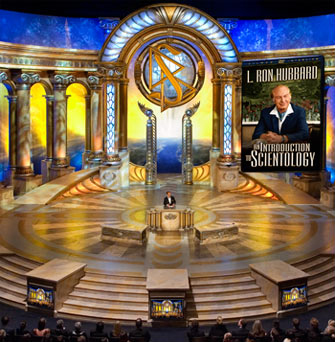 No expense is spared to create a favorable image
of success and forward progress


Miscavige invested millions into the creation of enormous video production facilities at his secret California headquarters and a corresponding proportionately-sized PR machine was built to gather up all possible stories and news from all Scientologists everywhere.

Instead of managing Church affairs, the senior executives of Scientology at the highest (international) levels were put onto continually writing speeches and video scripts throughout the year. If they fail, they are declared suppressive and isolated in their offices for months on end.

Crews were assigned to design and build extravagant stages for each event intended to dazzle spectators and put them into a state of hypnotic awe. With the exception of Hitler, no other ego in history has demanded such extravagant stages, not even the President of the United States! Why, Barack Obama needs nothing more than a microphone to garner support from the entire planet. Why do you think Miscavige requires an event stage large enough to house a 747?

Every available marketing staff member was absorbed into the machine to constantly "repackage" all possible Scientology books and services on an endless treadmill, racing from one event to the next.

Video Shoot Teams were formed and sent out across the world to capture the latest news. And where none exists, they simply manufacture it or exaggerate it all out of proportion. Example: for the opening of a new Scientology group in the Far East, "rent-a-crowds" were hired to populate an otherwise empty building. This is shot on video and voila, "Scientology is expanding!"

Politicians and VIPs are cajoled to say something on camera, and that is edited into positive statements by Miscavige's master spin doctors and often by Miscavige himself.
Slave Labor
Every year, at the May, June and October events Miscavige announces new "dissemination campaigns" and shows the latest TV ads "to drive massive numbers of people into Scientology organizations." The ads cost virtually nothing to produce because Miscavige uses his own slave labor to produce them with each laborer making well under minimum wage, about $0.40 an hour. So the beautiful TV ads cost nothing. But they look expensive.

Huge teams of sales people (called registrars or consultants) are assigned to use each event as a tool to demand money from parishioners "for our ongoing dissemination programs and expansion."

Scientologists know it costs money to put TV ads on the air and consider anything that helps Scientology expand to be an investment in a better world. Remember that word, investment. We will come back to that word in a minute.
Massive Fraud
So they make generous donations to help out. And if they don't, they are coerced until they do. For example, a Scientologist is hauled in to watch the latest event (on DVD) "so he can get briefed." The event contains speeches and videos with grossly exaggerated claims and flagrant generalities, such as "reaching some 1 billion people with the message of Source!" What does that mean? It means nothing. Nothing of that magnitude really happened at all.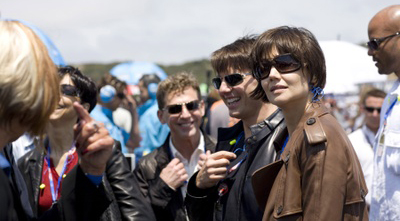 David Miscavige enjoys the fruits of his Ponzi scheme,
hanging with "best friend" Tom Cruise on July 20, 2008.


So, back to our explanation... Scientologists are made to watch this video, with all these claims and all this expansion and "proof" and they get somewhat excited. At that point the registrars (sales people) simply demand financial help. If the Scientologist doesn't have the money, he or she is asked what credit cards do you have? Staff promptly make some phone calls, raise their credit limits on their cards and take the money. Etc.

I myself received a phone call from my local organization, from a person who I had never met, and who knew nothing about me whatsoever. I was not at home and so she left a voicemail asking me to please come in and donate $5,000 because "it would really help a lot." When Scientology staff get to the point they will call up a total stranger and leave a voicemail requesting $5,000, you can imagine what happens to people they already know well whom they can pressure in person. They're getting hit up for 10 and even 100 times that amount.
The Bernie Madoff Hustle
The money, tens of millions of dollars every year, is funneled into the Church where a fat chunk goes to Miscavige every week. With it he buys $500 shirts, cars, motorcycles, suits, homes, buildings, cameras, flat-screen TVs, swimming pools, spy equipment, guns, home theaters... whatever he wants. He builds himself houses, offices, takes vacations, goes to the races and hangs with his millionaire friends like Tom Cruise.
Here's where the real Ponzi fakery comes in. The "dissemination campaigns" are launched but the TV ads that were shown to the Scientologists play for only a few weeks in spot markets instead of throughout the year as implied in the event. After all, every campaign is hyped up as "our biggest campaign ever!" In this way, the "dissemination programs" announced by Miscavige appear to be happening and Scientology seems to be really moving somewhere! Woo-hoo.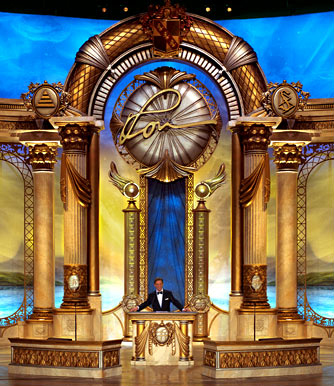 When this kind of extravagance is required for a
simple briefing, you know something is wrong


But in reality, the car never left the driveway. All Miscavige did was start the engine, rev it up a couple of times and shut it down. In this way, one tank of gas is made to last indefinitely. But Scientologists mistakenly continue to invest money all year long into "the expansion of Scientology" and "IAS Programs" which are all a big fat lie.

Spending a pittance to get a few ads made by slave labor, that's cheap. Putting a smattering of ads on TV or radio for a few days or weeks, that's cheap. Miscavige simply keeps all the cash. There is NO accountability for the funds. Not to the IRS because it's a "church," not to the SEC, not to anyone.
Bad to the Last Drop
So, on the model of an elaborate Ponzi scheme, Scientologists are coerced to "invest" in the dissemination of Scientology, a subject which they believe will help people. Miscavige makes a show of carrying through, but in reality he only puts up a few ads and then pulls the funding, or cross-orders the program, or transfers the marketing staff member who was running the program. Miscavige has numerous ways of stopping any actual dissemination since it would be expensive. In other words, he promises a river but delivers a drop.
Anyone with rudimentary math skills can understand that the number of ongoing programs would quickly add up. However no extra staff are added into marketing to run the dissemination programs. In fact, the organization responsible for Church marketing has been decimated by Miscavige; they have gone from about 35 staff down to maybe 7 or 8. So there's no one there to run any programs anyway.

No meaningful investment of parishioner funds is actually allowed by Miscavige. The money goes into bank accounts he personally controls.
Shhhhh, Keep this Part Secret!
But, just between us, you know the one thing a Ponzi man just hates?

Transparency. So before you listen to any whitewashing of this website, how about some transparency? Let Miscavige show us the money or produce the receipts.

Again, this is not criticism of Miscavige.

This is intervention on behalf of the thousands of Scientologists who have been defrauded, and on behalf of a world that deserves to know what the real Scientology is all about -- not a perverted, criminalized version of it!
This website is fully backed up on multiple servers and set so that if anything happens to it, a duplicate website with the same information will go online overnight. We know the kind of person we are dealing with. We're expecting dirty tricks and we're prepared and ready for them.
Bernard Madoff had his $50 billion ponzi scheme exposed. Robert Allen Stanford had his $8 billion ponzi scheme exposed. All we're saying is, "Psssst, look under the white robes of David Miscavige."

We think you're not going to like what you see.
Written by Thoughtful