Thursday, 20 August 2009 16:53
STRENGTH IN THE TRUTH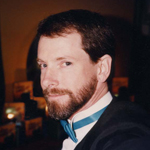 Senior Writer Central
Marketing Unit '94
As senior writer at Scientology's international headquarters, Steve Hall answered to and interacted directly with David Miscavige for more than 10 years. The post of Senior Writer was considered one of the more important responsibilities at the Int base since it could play a major role in shaping Miscavige's personal image, not to mention the voice of an entire religion. The position also represented one of the world's most difficult marketing challenges. What other subject has a more hotly-debated identity and hostile PR climate, while being undermined from within by a sociopath who's belligerent public temperament arouses skepticism, suspicion and doubt? Suffice it to say the task demanded not only world-class marketing skill but a philosophical understanding of Scientology that went far beyond the norm. Steve's consequent attempts to "de-cultify" Scientology's image and create a positive future put him on a violent collision course with David Miscavige.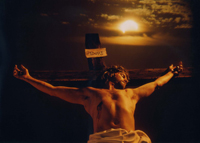 1991, Steve portrayed Jesus in the
book, "What is Scientology?"

For 25 years Miscavige had leveraged his unlimited power as Scientology czar to freely crush all potential rivals, whether real and imagined. Meanwhile, he intentionally and progressively worsened Scientology's image to keep wealthy parishioners contributing to Scientology's "war chest" to protect against perceived threats long after the Church made peace with the IRS and all the troops had gone home.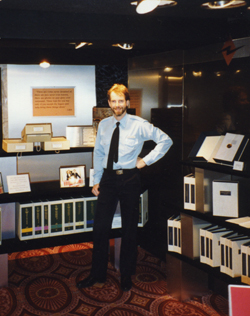 Designed and built Flag's 1993
"Preservation of the Tech Exhibit"
earning over $2 million for CST.

Refusing to follow detailed orders because they were patently destructive, Steve soon found himself enmeshed in Miscavige's mighty wheels of injustice. Against a campaign of generalities, psychological abuse, sleep deprivation and physical violence, Hall's antidote was Scientology. That fortitude was bolstered by "freedom from overwhelm" -- paramount in the abilities gained from advanced Scientology studies. "I kept looking for answers and I found them. Eventually I realized I was being a victim. The exit sign simply read 'stop being a victim and take responsibility for yourself.' It was time to start a new life."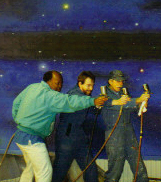 1993: Colwell, Steve & Peter
painting 9' x 35' backdrop
for the Flag Exhibit


As Hall explains, "Sea Org Members are groomed to be tough. Nothing wrong with that. But Miscavige uses their character against them to hide his crimes and shift attention off himself. He had free reign to abuse anyone and everyone, commit every kind of financial irregularity, engage in blackmail, extortion and human trafficking, covering it all with relentless propaganda of his "good deeds" meanwhile offending the sensibilities and ethical standards of the world at large, which is not so easily duped. Adversarial by design, Miscavige screams obscenities and assaults people and instead of observing the obvious, staff become specialists in justified thought, afraid to rock the boat.

"Miscavige's legacy has taken Scientology into a dark place. The few remaining staff who continue to defend Miscavige are classic cases of the 'battered person syndrome' -- irresponsible slaves who continue to fabricate, condone criminality and blindly follow Miscavige's orders with no understanding of the consequences."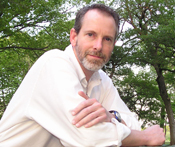 April 2004, just 1 month
after leaving staff. Looked
older then from suppression.



Despite all this, Steve does not feel the problem is unsolvable. "The solution to Scientology is transparency. Miscavige says a rough, tough atmosphere keeps toxic personalities out. That's not true. Toxic personalities thrive in chaos! Transparency is ruin for them.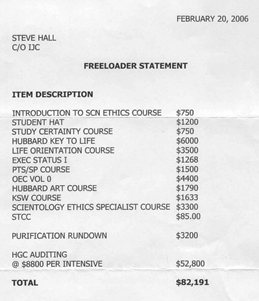 ABUSED? Feel free to leave at any time!
(Only $82,191 plus your spouse!)
"The strength of our nation lies in the free press, free speech and the right to assemble. It also depends upon the freedom of religion since no religion is free unless they're all free. But freedom of religion does not mean criminality in the name of religion."

Starting in 1995, Steve began to use his position as Senior Writer to overhaul Scientology marketing and make LRH products and services relevant. Ads that robotically parroted survey buttons were replaced with marketing that was more sophisticated, fresh and humorous. And readers began to notice. For Dianetics he teamed up with Caroline Mustard and wrote, "When life becomes a battleground, your mind is the best weapon." In 1997, he coined the tag line for Scientology still in use today, "Know Yourself; Know Life." Scientologists who were there in the 1990s may remember the shift when Scientology's marketing took on on new life.
As Steve recalls, "The ads demonstrated it was possible for Scientology to be useful and valuable in solving life problems, instead of being a cult. Steve wrote Adventure Newsletter and made the R&D Volumes a success. Many more successful slogans followed and by 1998, interest in Scientology was actually growing... until Miscavige pulled the plug on Scientology advertising and gutted the marketing division.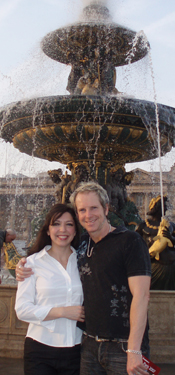 Erica and me in Paris, April
2007 shortly after we met.
Married, May 2009.

Years later Steve finally realized the problem wasn't lack of marketing. It was criminality emanating from the top of Scientology. "I've known a staff member who hadn't slept for days, cut off his fingers on a table saw because he fell asleep sawing wood, only to be kicked off staff by Miscavige for being 'accident prone.' Another worker grew so distracted from lack of sleep and not being allowed to see his family in LA that he forgot to raise the kickstand on his motorcycle, drove off and died moments later. Miscavige never mentioned any of these events. But when his own dog was run over by accident, Miscavige told everyone it was done on purpose. The fellow responsible was banished. Miscavige is not a religious leader, he's a traitor and a sociopath."

In 2004 Steve carried though on his decision to leave staff, and as a result Miscavige had him falsely labeled "suppressive," disconnecting him from every friend he had known for 20 years. To further crush any resistance, Steve was simultaneously served with divorce papers before even being allowed to speak with his wife of 16 years; he was slapped with a bill for $82,181 -- a violation of labor laws; and he was threatened by a lawyer that if he ever revealed any of his experiences to the outside world he would instantly owe the Church millions. All that, in addition to the prospect of starting life over at 46 with no savings, no job, no insurance, no credit, no 401K, no friends, no contacts, no place to live... nothing.
Since Leaving the Sea Org
Using Scientology Steve started life over. Since disconnecting from David Miscavige he has experienced success. Today he's happily married, with a network of friends that span the globe. Based in Dallas, Steve is an expert in the fields of Internet marketing, web design, copywriting and advertising. He is also an expert in SEO (search engine optimization) and this very website is a prime example, since it ranks on page one of Google out of some 8.98 million search results. As Steve puts it, "Anyone who can race 8.98 million people and finish in the top 10 is the real deal."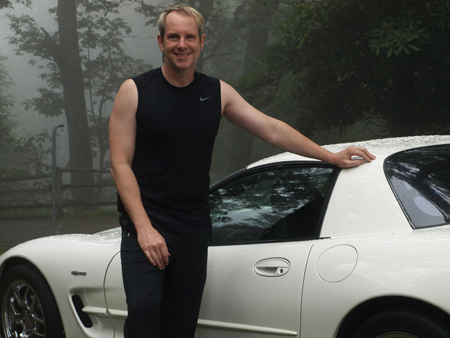 Great Smokey Mountains National Park, North Carolina
July 2009 Road Trip from Texas to Vermont
In addition, he's taking effective action to improve conditions in Scientology. As he explains, "Sea Org members are indeed tough and I hope I'm a good example of that. But toughness doesn't mean taking abuse, covering up or condoning criminality. It means doing what's right.
"These guys who just keep sweeping Miscavige's crimes and hostilities under the rug don't know the first thing about Scientology. They don't know what truth means. They don't understand what reality is. They're not there as beings.
"Miscavige may try to discredit us. That's the same trick he played at the base so we're used to it. But the difference now is, we can speak out. And I for one am going to keep saying I saw him physically attack people, I saw him waste millions of dollars, and I saw his orders result in injury and death. We're the ones Miscavige couldn't break."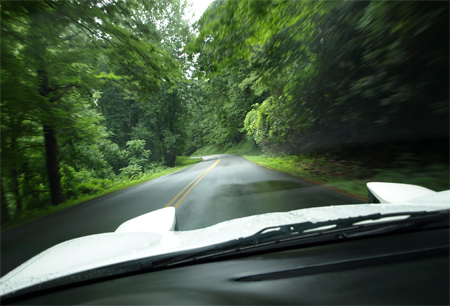 The speed limit on the Blue Ridge Parkway is 45 mph. I was okay with that,
especially after being surprised several times by deer in the road.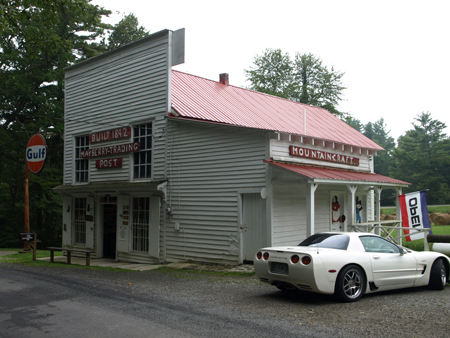 Old Meets New: Ms. Mayberry runs the Trading Post & General Store
alone now since her husband died last year... in the family since 1892.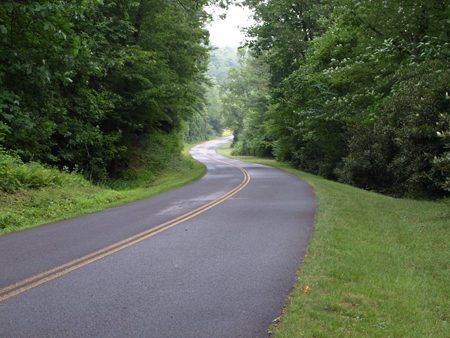 Now that we don't need it: the perfect winding road for TWTH cover
(if you're from marketing you know exactly what I'm talking about)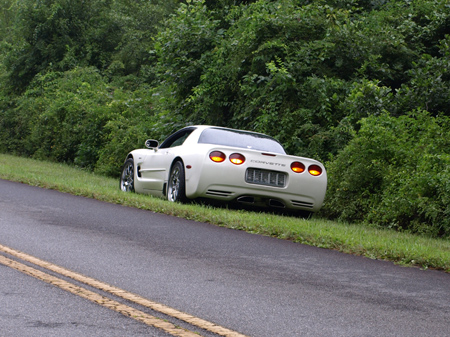 Stopped for more photos...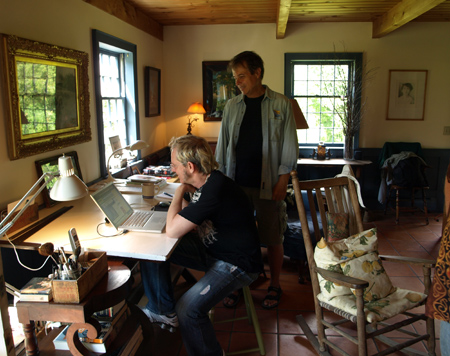 Enjoying the moment: seeing my own videos for the first time in
St Petersburg Times Truth Rundown "Strength in Their Numbers"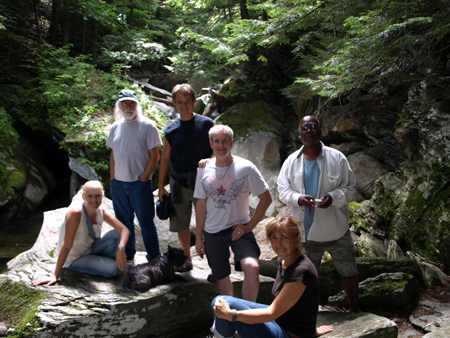 Friends for life at the First Annual Vermont Reunion...
make your plans now to be there next year!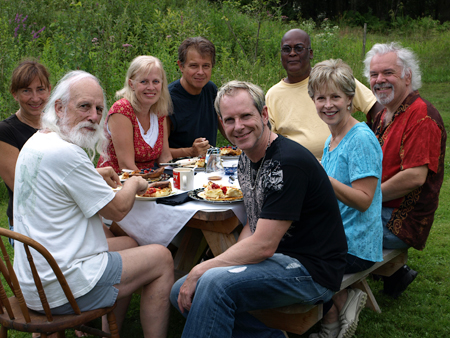 Peter & Carrie Cook, Mariette Lindstein & Dan Koon, Colwell Garth, George &
Betsy Perkins, and Steve sit down for the best damn Swedish pancakes and
Maple Syrup, amongst the best friends you can imagine on a day so
beautiful it could only be Vermont.