Blogs -
Thoughtful
Thursday, 12 July 2012 17:50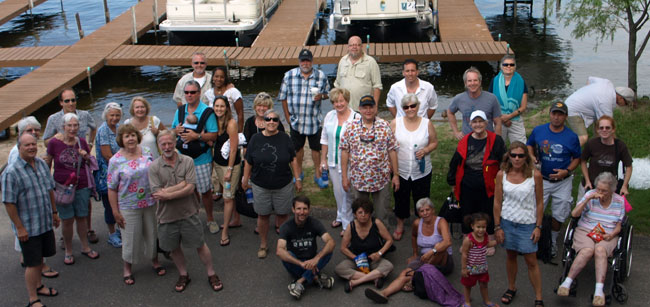 About half of the attendees before we embarked on a Sunday-afternoon boat ride.

We held the 3rd annual Indie Celebration on the 7th and 8th of July, 2012 on the shores of Gull Lake at Cragun's Resort in beautiful, lush Minnesota. I wanted to do a little review for those who could not attend so everyone can share the experience, hear what it was like and possibly attend next year.

The event was organized by Christie Colbrand and Natalie Hagemo.

Cragun's is located in Brainerd, about 2 hours northwest of Minneapolis for anyone that might have seen the movie Fargo. Green rolling hills full of trees under a beautiful blue sky, Minneapolis is the closet large city, and in case you are wondering what mni means, it is the Dakota word for "water" and there is plenty of that in the land of 10,000 lakes which is actually 5,000 short of the true figure.

Lucky us — David Miscavige did not send any of his brain-fried dolts with cameras on their head. It's always great to be anywhere they are not.

We had a very special guest who was the center of attention: 3-month-old Jack Rinder, Mike and Christie's son. Photogenic and well behaved, he was by far the most photographed personage at the event.

About 60 Indie Scientologists where in attendance. Plus journalists from NBC and a local pod caster formerly a news anchor in Minneapolis. I could be wrong, but I believe Dallas had the most attendees of any city (7) and Texas had the most attendees from any state with at least 15. If I missed anyone, or if another location had more, please let me know.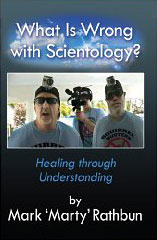 We had our own banquet room and outdoor patio right on the beachfront. Activities included golfing, swimming along Cragun's mile-long sandy beach, fishing, boating, laughing and telling stories, dining, and karoke. There were plenty of other activities, but mostly people wanted to visit with each other and one thing more: get Marty to autograph copies of his new book, What is Wrong with Scientology. This book, better than any other source, explains from a technical perspective precisely how David Miscavige has altered the subject at every level to corrupt and destroy Scientology's workability. If you haven't read a copy of this book yet, you really should do so. It is a must read for anyone with any connection to the subject.

On Saturday Marty organized a special video conference with the staff of the new Dror Center in Israel, the first mission to leave the Church intact and declare their independence! The history-making conference was filmed by NBC.

Craguns has a karoke bar and attendees sang from 9 pm to 12:30 am on both Saturday and Sunday night.

Temperatures varied from the upper '60s to the lower '80s — perfect, with no rain. And the lake was the perfect temp for a refreshing dip.

As a private party, attendance was open to anyone who had publicly declared their independence and/or departure from corporate Scientology. Some faces were missed, but overall it helped make it a safe, distraction-free environment that added up to a very relaxed non-PTS atmosphere throughout the party.

On Sunday everyone had breakfast and dinner together and the food was delicious.

What this party was really all about was friendship — something that doesn't exist in Dave Miscavige's corporation.

I'm already looking forward to next year's event. Hope to see you there.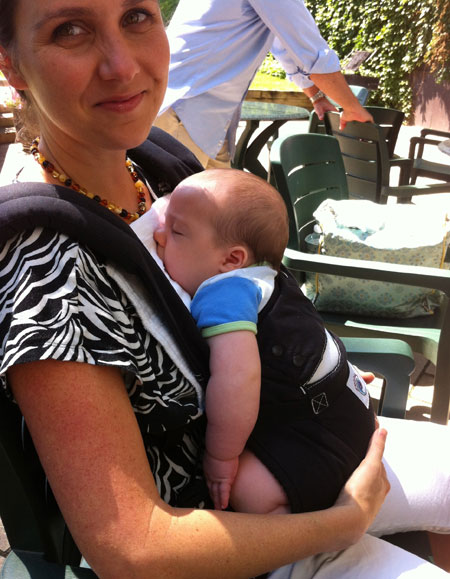 Christie and Jack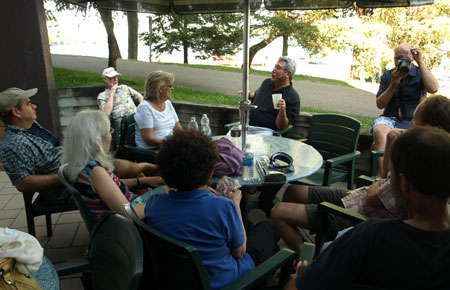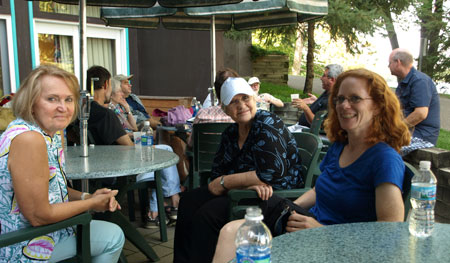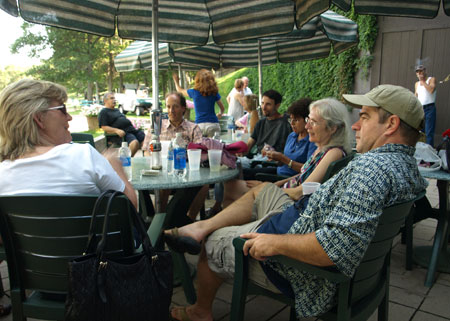 Relaxing on our private party patio overlooking the beach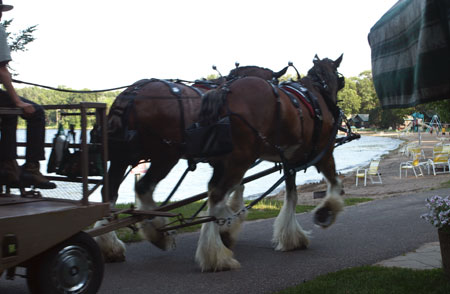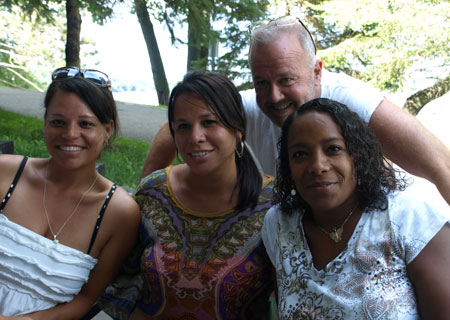 Lana, Natalie, Marty and Mosey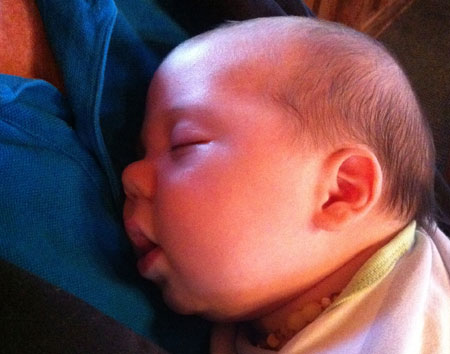 Sleepy time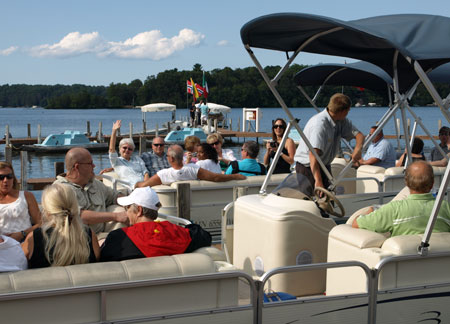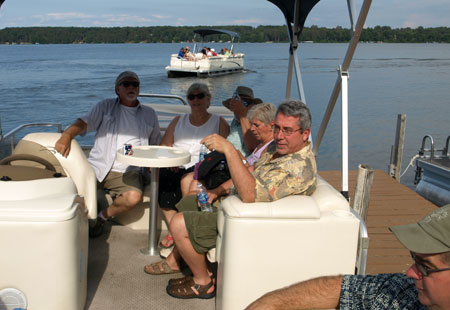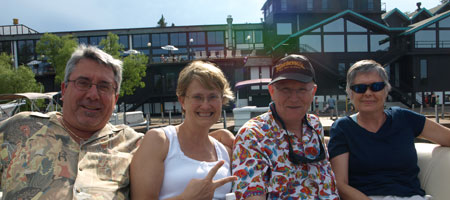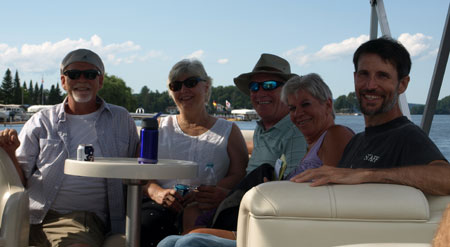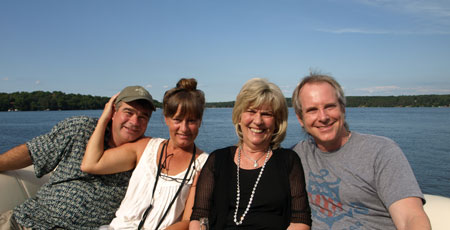 Free boat rides touring the lake.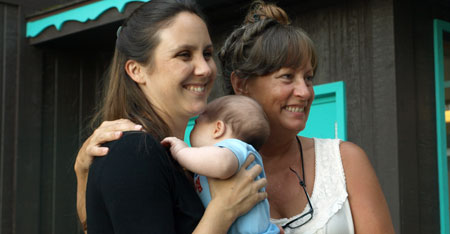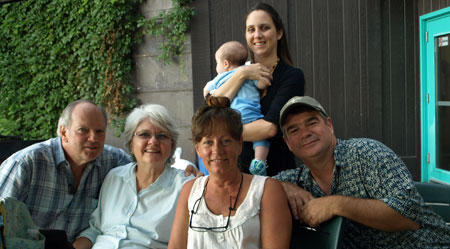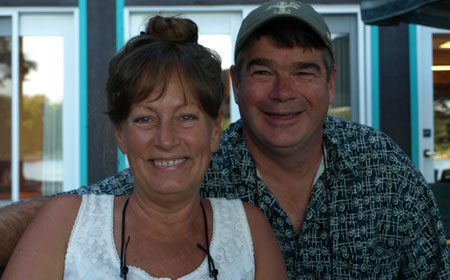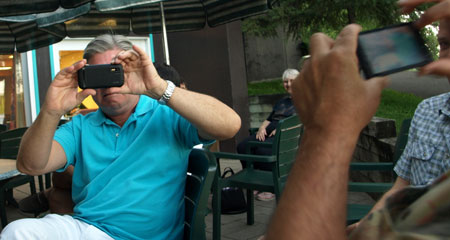 Dueling cameras...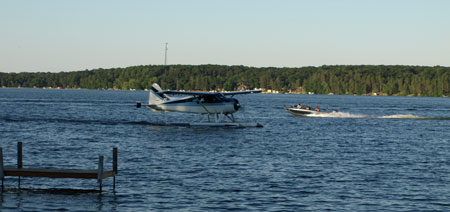 Plane prepares for take off.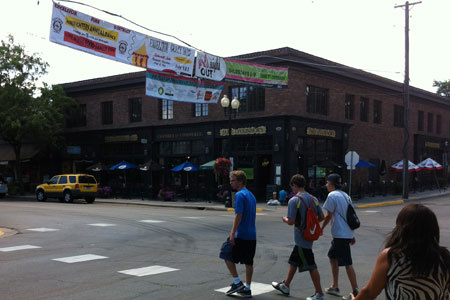 Exploring nearby Excelsior on Monday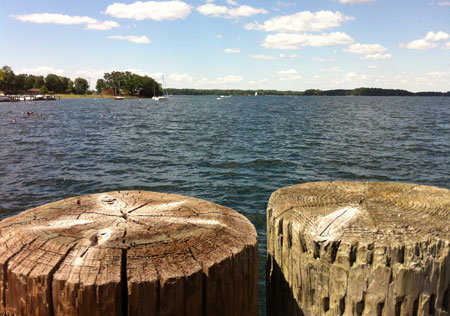 Lake Minnetonka in Excelsior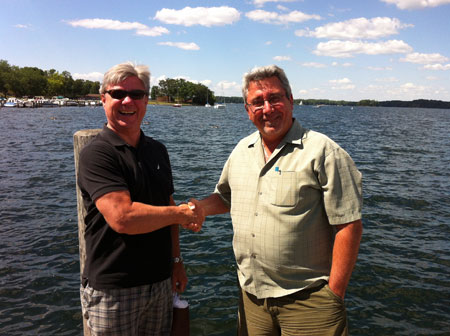 Mike and Tony by Lake Minnetonka
These photos don't show everyone. There are lots more photos on facebook!
Thoughtful
Blogs -
Thoughtful
Friday, 09 September 2011 08:01
It has come to my attention that there are still a few Scientologists in Germany who are afraid to attend the meeting because they feel if anyone found out they are a Scientologist, they might lose their job.

The point is not to come out as a "Scientologist" -- The CoS is a suppressive group to say the least and so if you say you are one of them, YES you certainly may be shunned.

But an Independent Scientologist is not the same thing. So that brings up the issue, what IS an Independent Scientologist?

An Independent Scientologist is a Scientologist who PUBLICALLY condemns the criminality and corruption of David Miscavige and his supporters. One has to actually DO something to PUBLICALLY expose the conspiracy within the CoS to ruin lives for the sake of money and power.

If one refuses to do that, then naturally in the publical eye one still retains the color of an enemy. No one is going to trust you and you will be viewed at best as a coward. Why? Because you are condoning the violation of human rights.

To be an Independent Scientologist, you have to stand up against the Church. Sorry, but there is no other way because there IS a condition running. The CoS has blood on their hands.

Independent Scientologists wherever they are, need to throw off this suppression of years and stand up for what is right. All good things will come to you if you do this. I don't like to hear that people are still allowing themselves to be cowed by SPs (the CoS).

The reason Scientologists in Europe (or anywhere) have a hard time is because they refuse to come out against the Church. Thus they are actually condoning criminality and that gives them a bad name.

The CoS is criminal and corrupt. If it is not OUR job as Independent Scientologists to do something about it, then whose job is it?

The tremendous ARC you can see on the Markus Lanz TV show (you can see it on Marty's blog) is the result of someone publically taking a stand as a Scientologist against the Church. Independent Scientologists are accepted by everyone. That's how it goes in America and Europe and anywhere. People who strike a blow against enslavement are universally loved and respected. They become instant VIPs. Everywhere we go Germans open their hearts to us. That is the light every Independent Scientologist must go to. Go into that light. Joy will fill your heart and wash away the despair.

By striking a blow publically to expose the corporate conspiracy inside the Church of Scientology, you will personally move UP a little higher and the 4th dynamic will support you because they WANT people like us around. They see clearly that we are protecting the public and setting a spectacular example of courage, honor, moral fiber and personal integrity.

The concept of the knight who roams freely standing up for freedom and truth is not dead. It is NOT a thing of the past. It is as alive as the heart beating in your chest. Why not be that knight? LRH defined Prime thought as the decision TO BE.
Decide TO BE and feel the life flowing back into your soul.
As Mike Rinder pointed out to me, the LRH handling for a suppressive group is to disband them. It is up to us to cut the head off the fire-breathing dragon.
Well, on the day we disband David Miscavige's mafia-church and his Stasi-like OSA, we can all take back the name of Scientologist. Until then, it is only honorable to be an Independent Scientologist. And that is a title you have to earn. But it is easy and fun and even joyous to do so. Taking action against the Church puts you instantly into a suit of gleaming armor.
Get your knight on.

Thoughtful
Blogs -
Thoughtful
Thursday, 08 September 2011 14:12
For decades Miscavige and the Office of Special Affairs has been running an extensive fifth column campaign to create chaos for Scientologists, Europen government officials, and key nations as a whole including Germany, France, Belgium and the UK.  The more trouble, the more cash David Miscavige receives in the form of donations plundered from duped Scientologists into the IAS's "war chest." Without a war, there can't be a war chest. That's why the Church IS at war.

It is a corporate conspiracy in the name of profit against multiple governments and I hinted at some of the details yesterday involving Miscavige's recruiting of film actors like Tom Cruise, John Travolta and Ann Archer (Tommy Davis's mother) to pressure the US State Department to disrupt government operations. The details are truly rotten and that is one of the topics to be revealed by Marty on Saturday to any Independent Scientologist who wishes to attend our free meeting in Hamburg. Helping to organize THIS meeting is why I bought a plane ticket to Germany. Marty could have done it himself, but he's been a bit busy, so I volunteered.

Speaking of Marty, today he was on the Markus Lanz talk show with Ursula Caberta. The show is to air immediately and you can see it on Markus Lanz's website. Together they reveal some blistering facts about Miscavige's Stasi-like Office of Special Affairs and David Miscavige.

http://www.zdf.de/ZDFmediathek/beitrag/video/1433942/Scientology-Aussteiger-Marc-Rathbun--#/beitrag/video/1433942/Scientology-Aussteiger-Marc-Rathbun--

(Note: I believe English subtitles will be available soon on the video. Right now it is only in German)

-- Hey, tip to Mr Cruise and OSA: the Hammer of Thor is coming down. Don't be under it. You guys are on the wrong side of history. Just like the Stasi. Either wake up and get out now (with evidence against Miscavige) or soon it will be too late.

So the meeting will be at the Department of the Interior, 4 Johanniswall by Altstadterstrasse, starting at 10:30 AM in the heart of Hamburg. Bring your German ID or if you are not German, bring your passport -- you will need it to get into the building. If you arrive on time, you will also get to meet Ursula Caberta -- a genuine leader of enormous insight who since years has suffered every dirty trick in the OSA play book. What Marty is experiencing now, she also endured.

And as for the numerous CoS hate websites attempting to malign and stigmatize Ursula Caberta as a "religious bigot" -- FAIL. She never was. And now that she's proving the point, the CoS websites suddenly took down that lie and replaced it with a new one. Just hours ago! Miscavige operates on the insane idea if he repeats a line (even though it's false) enough times for enough years, one day everyone will believe it. I'm not making this up. It is actually what he professes, and is why OSA tells such blatant lies about Marty, Mike, Ursula, me, Amy, Marc, and the hundreds of others who stand by truth.

European Scientologists need to know what has really been going on so they can jetisson the false data. For example, OSA operatives and IAS registrars have been telling people since the 1990s that the German government "kicks Scientology children out of public school." it is a lie. The German government doesn't care what people believe and they want kids to go to school. Like anyone else, they only care what people DO. And when repressive individuals start discriminating against others, forcing them to give money, disconnect from parents or change religions, the government's job is to do something when people are being harmed. In response, the Church made up lies.

For years WISE pressured Scientologists to use confidential employee records to recruit people into Scientology. It is illegal to do that. Victims turned to the government for help. And when the government told the Church to knock it off, the Church spread a lie that "if the government finds out you are a Scientologist you will lose your job." No, breaking the law and harming people is what gets people fired because that's just how life works. The only people who ever lost their jobs were fired because they comitted crimes that harmed people. It was NOT "religious persecution."

To prove the point, the govenment is hosting and providing their own facilities for a meeting of Independent Scientologists.

The government has no problem with us at all. On the contrary, they respect what we are doing and they know the Church is retaliating against us in various ways, especially if your name is Marty or Mosey Rathbun. Yet this "open arms" approach is nothing new. This has been their attitude all along. It was only the CoS that claimed the government was all bad. And it wasn't just the government that OSA lied about. They also claimed problems in Germany traced back to the Lutheran Church. Hogwash!

What David Miscavige does best: make powerful enemies with long memories.

I also said yesterday the Church had blood on their hands. And Hamburg attendees will learn more on that score too, including tragic deaths by suicide of leading European Scientologists, forced into such heavy debt by the CoS there seemed no other way out than to abandon life itself.

So, if you can arrange to be at this historic meeting, please be there. In fact this meeting symbolizes a mending of relations and a healing from the damage done to a very important part of the world by the most toxic individual I have ever known.

Marty said his purpose in coming to Europe was to "clean up the mess" made by David Miscavige.

- Thoughtful
Blogs -
Thoughtful
Wednesday, 07 September 2011 13:36
Blog item for today:
In the late 1990s, I remember David Miscavige complaining bitterly about Europeans, especially German Scientologists. No country was more vocal against the Church than the German media and government. Miscavige knew exactly what was wrong.
"The German Scientologists are PTS" he belowed -- meaning they were potential trouble sources because they were connected to suppressive (toxic) people. Truer words were never spoken. The only problem was the "suppressives" were NOT Ursula Caberta and the "German government" -- no, no. The suppressives were in the Church, namely David Miscavige and his supporters -- the VERY people who for decades spread carefully worked out propaganda that modern Germany, and particularly the efforts of Urusula Caberta were a throwback to 1930s Germany. And that was and still is utterly false.
The truth is Ursula Caberta was a decent, hardworking, intelligent and caring member of the Hamburg government who started receiving requests from people who were being abused by David Miscavige's corrupt empire. She looked under the rock and immediatly came under heavy attack from the Church.
Sound familiar?
Anyone who looks under the rock is falsely villified.
For some time, Marty has been interested in setting the record straight and naturally he isn't the only one. The Church's black propaganda campaign has been so thorough and so relentless, involving numerous visits to the US State Department by the "likes" of Tom Cruise, John Travolta and other carefully cultivated (by Miscavige) "celebrity Scientology tools" many Scientologists in Germany actually came to believe the "government" is against them. It's a lie.
The government, like any group of law-abiding citizens of the world, are against criminality, abuse, torture, extortion, human trafficking, and the destruction of families -- the stock in trade of David Miscavige. It has been the Church of Scientology, all along, that emanated the untruth that the actions of the Church were a reflection of Scientology philosophy. And why has Miscavige made that his central them? He's covering his ass. Blaming his actions on LRH. Blaming his criminality on the philosophy. And in the process making Scientology the philosophical pariah of the century.
I am here in Germany. I took the week off and came here on my own dime (not cheap) to support what Marty and Mosey are doing and to help rally Independent Scientologists to pin the tail on the actual donkey for once instead of pinning it on those who have actually been trying to stop the abuses of the Church and protecting lives and property.
A handful of rag-tag Scientologists from the Church were quietly protesting outside dressed up like the Inquisition. How ironic, since it is they, not us, who have blood on their hands.
Tonight, the television airwaves in Germany are LOADED with reports, video excerpts and news items from Ursula and Marty's lengthy press conference today, held at Hamburg's equivalent of the Ministry of the Interior. And there is more to come.
Get it: the German government supports our mission to expose the crimes of the Church and stop the insanity.
That's a big deal. It's unprecedented.
If you are an Independent Scientologist helping to decry the abuses and criminality of the CoS, the German government has your back. That sure beats what we have in the US State Department where key government politicos have allowed themselves to be covertly bought off by a few subverted movie actors.
There are many more examples around the world of what has happened in Germany. Broadly speaking, wherever you hear the Church of Scientology complaining BITTERLY of "religious discrimination" and "religious bigotry" -- the reverse is true.
The bigots are all in the Church.
LRH said the mission of Scientology was to create a "safe environment." The Church instead specializes in creating a threatening environment. They drive families apart. They crush every penny out of their hapless supporters. And they spread the worst lies imaginable about anyone with the courage, integrity and moral fibre to help expose the truth. And when I say those last words, think of the German people. Hey, last week I heard the Church of Scientology created a new hate site just for me. Of course that probably had nothing to do with me dropping everything and coming to Hamburg on Tuesday in support of Marty, Mosey, the Independent Scientologists of Europe, and our new friends -- the German government.
So take a closer look. Take a closer look at anyone who the CoS says is an enemy.
The worse the CoS says people are, the better they might really be.
Steve Hall
Blogs -
Thoughtful
Friday, 01 July 2011 09:39
By Thoughtful

"A disaster is something not predicted or prepared for." — LRH

In 2010, with the success of Scientology-cult.com and the retribution against whistle blowers that the Church of Scientology is famous for, I began to be more concerned about the subject of security. So, I postulated finding someone who could help and sure enough I did.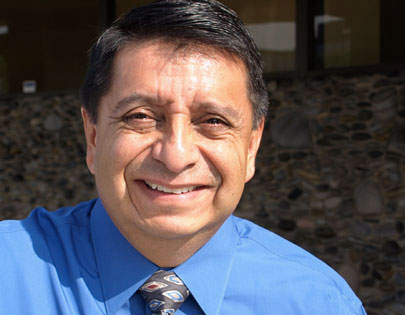 A friend introduced me to a gentleman named Ruben Puente who needed a website. Turned out that Ruben, a native Texan, had some 38 years of on-the-street law enforcement and security management experience. Ruben helped me, and so I want to introduce him to you in case you also might need or want some help.

Ruben is a retired cop, but not just any cop. He has a 26-year career with Texas Law Enforcement in the Dallas area and retired as a police commander. He holds an Active Peace Officer license and a Security Consultant license qualifying him for investigations, consulting and training.

Fluent in two languages (Spanish and English) he is an active instructor in law enforcement and a member of the International Law Enforcement Educators and Trainers Association and ASIS International.

He is a graduate of several Law Enforcement Executive Colleges and curricula including the Institute for Law Enforcement Administration's Management College and School of Police Supervision, the "LEMIT" Leadership Command College.

Ruben graduated from the 210th Session of the FBI National Academy, Quantico, VA — elite law enforcement training attended by invitation only.

Ruben earned a BS degree in Criminal Justice from the University of Texas at Arlington in 1985 and earned a Masters degree from Southern Methodist University in 2001. In May of 2001, he also completed his Advanced Graduate Studies in Dispute Resolution at Southern Methodist University. In August 2011, he will earn his second Masters degree in Criminal Justice and Security.

Ruben's corporate experience included a term as Senior Manager of Corporate Security with Frito Lay North America, where he was responsible for a workforce numbering 49,000 employees in regional offices, manufacturing plants and distribution centers throughout the U.S.

He was also Senior Manager overseeing corporate security operations for Major League Baseball, Office of the Baseball Commissioner, headquartered in New York City. There, he was responsible for the personal safety of top executives and star players; through training and consulting he created a safe security perimeter.

Unlike "private investigators" with no law enforcement experience, Ruben has been on countless drug busts, apprehended dangerous criminals, and conducted hundreds of investigations as a police detective — murder cases, white-collar crime, you name it. He worked for decades interviewing witnesses and suspects, dusting for fingerprints, finding evidence, analyzing statements and his specialty — obtaining confessions.

Ruben is an expert with a subject called "micro-inequities" the subtle body language that indicates when someone is telling the truth. Perhaps you've heard it said that 90% of communication is body language. Well, when you know what to look for, tiny unavoidable indicators like flinches, twitches, darting eyes, coughs and itches are beacons lighting the roadway to truth. This kind of linguistics skill comes from interviewing thousands of witnesses and suspects. And what it really means is Ruben is tri-lingual: Spanish, English and body language.

I briefed Ruben on the Church of Scientology and he has studied their dirty tricks, harassment, hate crimes, stalking and cyber stalking. He's read articles and watched videos on Marty's blog and on Scientology-cult.com and spoken to key Independents who are being actively harassed.

The word "security" means "the state of being free from danger or threat." The derivation comes from "securus" which means "free from care." And when you are dealing with suppression, being "free from care" merely requires doing something about it.

I hired Ruben to conduct a threat assessment on my home, personal life and business. This gave me peace of mind because I understood what my risks were and were not. He helped me put together a security plan for each area of my life. And although the risk was rather low in some areas of my life, the time to get prepared is when the risk factor is at 2 or 3, not when it jumps to 12.

At my home, Ruben took photos and did a full security analysis with recommendations that I implemented for security lighting and discrete 24-hour video. Ruben told me what kind of equipment to get and I was able to install it myself over a few weekends.

He also gave my wife and I security training — and if you are going to get trained, doesn't it make sense to learn from an expert? On the force, Ruben was responsible for training officers and keeping them from getting shot so we felt like we could really trust what he told us. On-the-street experience is invaluable. For example, Ruben showed us where a person would hide in an ambush and explained what would happen and what to do. And should we ever walk in on an armed intruder, Ruben taught us a key defensive tactic guaranteed to delay anyone from shooting. Tricks of the trade like these can keep you alive when seconds count.

Something you may not know about "private investigators": Many of them are retired desk jockeys who have no on-the-street experience. They have never stormed the home of armed felon, caught murderers or stopped a robbery in progress with guns drawn.

Here in Texas, I had someone bothering me occasionally who I was pretty sure was working for the CoS. So I hired Ruben to investigate him. What he found was interesting to say the least.

Most "private investigators" are qualified to do only minor investigations. They aren't certified for consulting or training. They don't have friends throughout the law enforcement community. Ruben is the real deal. If anything unusual happens, I have someone to call. His services include,

Personal protection training
Safe storage, concealment and use of firearms
Personal, home and business threat assessment
Home vulnerability assessment
Security technology recommendations
Civil and criminal Investigations
Confidential surveillance
Suspect investigation
Police liaison
Latent print examination
Statement analysis
Witness interviews
Police report investigation
Forensics/Evidence collection
Cell phone and computer forensics
Crime scene analysis and reconstruction
Crisis management contingency planning
Policy and procedure evaluations
And with some 38 years of real-world experience protecting people and apprehending criminals, Ruben's network of contacts and life-long friends in the law-enforcement field are embracive.

In my own life, being prepared has brought peace of mind. LRH explained when a crew is prepared for anything, "anything" seldom happens. And if it does, it rarely becomes anything worse than an emergency. I've seen many examples of this over the years.

True to form, since getting prepared in 2010, I have had almost no harassment. We have friends throughout our neighborhood and they are briefed on my status as a whistle blower and briefed as well on the tactics of David Miscavige's systematic retaliation efforts involving harassment, hate crimes and stalking.

I've visited the local police departments and the FBI here in Dallas and briefed them, and gotten their advice on what to do if I need their help.

Once I got prepared I no longer felt "at risk." I've got the FBI, Dallas Police, a top-notch private investigator and the neighbors on my side. I've got numerous security systems in place in my personal life and where ever I go. I know what to do.

The old boy-scout motto was "Be prepared." LRH said, "A disaster is something not predicted or prepared for" — thus by definition, if you predict what could happen, and if you prepare for disaster, disaster never happens.

If you want to make sure nothing happens, get prepared. Get prepared because you want nothing to happen.

If you have any attention on your own personal, home or business security, be proactive. Visit your local police department; they're there to help you. Give Ruben a call or visit his website. He really dislikes bullies. You can visit his website at www.guardiainvestigations.com. Or email him at This e-mail address is being protected from spambots. You need JavaScript enabled to view it .

Ruben has not paid me to write this. I'm writing it because he is a friend and I'm excited to share a new resource with the Independent field.

If you have any slightest concern or worry, that is the indicator that you need to do something. That is your intuition. Get your security in and have more peace of mind.

Thoughtful
<<

Start

<

Prev

1

2 3 4 5 6 7 Next > End >>


Page 1 of 7