Monday, 19 October 2009 15:27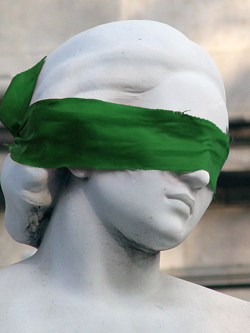 In the recent history of Scientology we have seen the introduction of "Command Intention" as a way to usurp policy. Command in this instance would be the ruling body or force and intention would be what is desired to occur. This means that "command intention" is what the ruling body wishes to occur.

However in Scientology the ruling body should never wish anything to occur which is off Ron's purpose or policy. After all "Command" and ALL of us are supposed to be operating off of Ron's admin scale. His purpose. His policy. That is what is known as KSW.

So when the intentions of "Command" are in variance with policy we always choose Ron's Policy as these forward Ron's intention.

The first reference that I stand on is a simple one. It is HCOB 16 April 65 Issue 1, The "Hidden Data Line".

"Don't for heaven's sake mistake alter-is by somebody as evidence of a hidden line.

"In Scientology we say "If it isn't written, it isn't true." That applies to orders. Somebody says "Ron said to ______" and on a veteran staff you hear the rejoinder "Let's see it." I've had raw meat walk into an org and say "Ron said I was to have 25 hours of auditing." And in the raw meat days of orgs, they sometimes were given it. So we have learned the hard way – "If it isn't written, it wasn't said."

"And that applies to anybody's orders, not just mine.

"And on tech and policy, it's equally true. If it isn't in an HCOB or an HCO PL or recorded on a tape in my voice, it isn't tech or policy.

"Next time you hear a pretended order or a squirrel process attributed to me, say 'if it isn't written or recorded, it isn't true.'"

– L. Ron Hubbard –

Now this reference is enough to establish that the only agreed upon tech and policy in Scientology comes from one source and that you need to see it in writing to believe it. Never take what is said to or written to you by some one else as if it were Ron – no matter who it is.

The next two references are one's that have been used by others to make themselves right for violating standard LRH policy. The actual references do not give anyone the right to violate policy, but when you only use one line from the references you can make it seem as if it is OK to do so.

These are:

"You're using policy to stop!"
"Purpose is senior to policy!"
Here is where I know the individual has not read the references or understood them in regards to these two data.

Let's start with number "1" above and first find out where Ron defined it.

The definition of "using policy to stop" comes from tape # 7203C06, 6 March 1972. It is the 9th Tape in the Establishment Officer Tape Series called F/Ning Staff Members Part 1. The tape is mostly about exchange and what that has to do with the health of all organizations. It is an excellent tape that everyone should listen to. The exact reference on "using policy to stop is as follows:

"So it doesn't always work that the message goes through straight, but it is the answer, it is the answer. If you have hatted according to policy and not hatted off a lot of squirrel, offbeat actions; if you have made sure that you don't have using policy to stop; they can do that by the way by always applying the wrong policy letter. All you've got to do is take the policy letter that applies to A and instead of following that, find another one that really doesn't really apply to A but find something in it that can be construed as to apply to this and they say, "Well, you see we can't do that." Policy was designed to tell people things they could do and when it tells them not to do something, it's trying to put edges on the channel so they won't go off of it. But what channel? The channel of doing something right."

– L. Ron Hubbard –

Here is an example of something I saw recently:

A friend is in the Sea Org, and you see each other regularly. He is working at ASHO where you are on the SHSBC. He is the Treasury Secretary, and one day you stop by the cashier's window to say hello, but he is not there. This happens a number of times.

Finally, you see him on the sidewalk out front of ASHO and ask where he has been. He tells you that he has been out selling basic books six hours a day and has to fit his post in as he can because COB has ordered these to be sold to every Scientologist. He says that all staff except Auditors and C/S's are off post and selling books.

Your tax statement is overdue, and you ask him if he is going to be able to get you donations tax statement out to you soon. He let's you know that he is working on it every evening and will have it to you soon.

Does anyone see that policy is being used to stop this guy from doing his job!

The all-hands policy is being misused to take this guy and many of his fellow staff off producing the product of their post. Policy is being used to stop him.

This guy finally has had it. If he doesn't get these statements out to parishioners, the government will be on the org hard. He tells his senior that he needs to get the product of his post and has been illegally taken off post to do actions that are not part of his hat. The senior tells him he is "using policy to stop". See how insane this gets?

The senior definitely does not know what it means to use policy to stop. If he did, he would have made sure every staff member in his org was doing their post and not following orders that violated LRH policy. Remember the above reference:

"Policy was designed to tell people things they could do and when it tells them not to do something, it's trying to put edges on the channel so they won't go off of it. But what channel? The channel of doing something right."

So what does policy say to do about one's post?  What should one do as a staff member?  What does Ron say to do?

Checkout HCOPL 31 July 71, The Usual.

"When in doubt do the usual, the routine, the standard.

"If your hat says recruit, recruit. Don't do tool purchasing.

"WHEN A POST DOES NOT DO ITS USUAL ACTIONS THESE BACKLOG AND APPEAR AS TRAFFIC AND DEMANDS."

– L. Ron Hubbard –

Ron obviously did not expect an organization to run in a constant state of emergency. He obviously did expect every staff member to do the usual and wear his hat to the fullest of his ability, thus producing the VFP of the org.

Why would the Treasury Secretary wear the Bookstore Officer's hat?  Treasury Secretary is a vitally important post to the org. All posts in the org are important and each should do the usual and get out the actual VFP of the org as covered in HCOPL 17 JUNE 1970RB ISSUE I, Technical Degrades:

"The puzzle of the decline of the entire Scientology network in the late 60s is entirely answered by the actions taken to shorten time in study and in processing by deleting materials and actions.

"Reinstituting full use and delivery of Dianetics and Scientology is the answer to any recovery.

"The product of an org is well-taught students and thoroughly audited pcs. When the product vanishes, so does the org. The orgs must survive for the sake of this planet."

– L. Ron Hubbard –

If I walk into an org there are a couple of things I always checkout. 1) How full is the course room with people on auditor training? 2) How many pc's are moving on bridge actions in the HGC?

These two things are what will clear the planet. I have never heard Ron speak or write of any other way to accomplish this in Scientology.

So when you take org staff and put them to doing other things that are not doing their post and creating an org that will accomplish that VFP you are destroying the org and using policy to stop.

So we say apply the policy of your post to your post (do the usual) and you cannot loose and everyone will win.

But now, this Treasury Secretary tells the senior that he is going to do the usual and follow the policy of LRH and get back on post and get his job done. The senior says that the purpose of these book sets is about booming Scientology and that "purpose is senior to policy".  (This leads to point number two.)

This senior really should have read the policy reference about the Admin Scale.  The policy is HCOPL 6 December 1970, Third Dynamic De-Aberration. In the DEBUG section it says:

"When orders are not complied with and projects do not come off, one should DETECT, ISOLATE and REPORT and handle or see that it is handled, any of the scale items found random or counter.

"If any item below POLICY is in trouble – not moving – one can move upwards correcting these points, but certainly concentrating on a discovery of illegal or counter-policy. Rarely it occurs some old but legal policy needs to be adjusted. Far more commonly policy is being set by someone, verbally or in despatches, or hidden, that is bugging any item or items below the level of policy.

"So the rule is that when things get messed up, jammed up, slowed or inactive or downright destructive (including a product as an overt act) one sniffs about for random or counter-policy illegally being set in one's own area or "out there."

"Thus in the face of any outness one DETECTS – ISOLATES – REPORTS and handles or gets handled the out-policy.

"The detection is easy. Things aren't moving or going right.

"The isolation is of course a WHAT POLICY that must be found and WHO set it.

– L. Ron Hubbard –

In this reference, he is saying that someone found to be altering policy is off group purpose, meaning he is not operating off of LRH's purpose. This, in turn, means that his orders or policy are illegal.

"This admin tech gives us our first 3rd dynamic de-aberrater that works easily and fast.

"Why?

"Well, look at the Admin Scale. Policy is just below purpose.

"Purpose is senior to policy.

"The person who is setting random or counter illegal policy is off group purpose.

"He is other-purposed to greater or lesser degree."

– L. Ron Hubbard –

Obviously, Ron laid out the Admin Scale for Scientology and so laid out the purpose and the policy.  Does someone else believe they could do a better job? If so tell them to get out and start their own church. This one belongs to Ron and no one else.

So, never let anyone tell you that their purpose is Scientology's purpose if it doesn't align with the policy as laid out by Ron. Anyone who tells you that is a liar. Here is a reference for those who lie to you. It is from the tape series Incidents On the Track: Technique 88 Before Earth, the tape is: Overt Acts, Motivators and DEDs. It say:

"When you speak of the Creator, you're probably speaking of something entirely different than implanted religion. Religion is always different than truth. It has to be. Because the only way you can control a people is to lie to them. And you can write that down in your book – very big letters. The only way you can control anybody is to lie to them.
 
"All right. Now, look. When you find an individual is lying to you, you know that the individual is trying to control you. You can put that down. One way or the other, this individual is trying to control you. That's a mechanism of control. The individual is lying to you, so they're trying to control you. Because if they give you enough misinformation they'll throw you far enough down the Tone Scale so they can control you.
 
"Conversely, if you see an impulse on the part of a human being to control you, you know very well that that human being is lying to you. Not is just going to – is lying to you. Check up the facts, you'll find out they're always true. That person is trying to control you, he's lying to you. He's got to tell you lies in order to continue control, because the second you start telling anybody anything close in to truth, you start releasing him and he gets tougher and tougher to control. So you can't control somebody without telling them a bunch of fibs.
 
"You will find that command has this very often as its greatest weakness. It'll try to control instead of lead. And the next thing you know, it's lying to the crew, lying to the crew – lie, lie, lie, lie, lie. And it gets worse and worse and then all of a sudden the thing blows up.
 
– L. Ron Hubbard –

Now, I hope some of the things I have said here have been helpful in pointing you toward source.  And when I say source, I mean the one and only source for Scientology and that is Ron. No substitutes will do – I mean none. To anyone who still believes they should follow orders that are against Ron's policy, I can only say that you need to go to another church and stop squirreling this one.
Written by Jimmy Rebel


Last Updated on Monday, 19 October 2009 16:49