Tuesday, 22 December 2009 09:45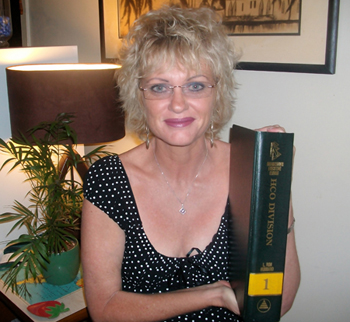 On December 3, 2009, Lise O'Kane of Brisbane, Australia officially resigned from the Church of Scientology explaining, "I was absolutely disgusted with what David Miscavige has done to our precious technology. With Reverse Dianetics and Reverse Scientology destroying so many lives worldwide,  I realized some time ago the source of that plague was David Miscavige himself."

A Scientologist for more than 10 years, well respected and well liked throughout Scientology down under, Lise is a highly-skilled auditor and fully-interned Golden Age of Tech Class IV C/S who did her tech internship at AOSH ANZO. For the last five years, she held the posts of Tech Case Supervisor and Auditor in Brisbane org.

Lise O'Kane was also Ed McBride's auditor. For those of you who don't know, Ed McBride was a soldier in the Australian army who was soaring after having just completed his auditing program in February 2007. Ed decided to take a day off and was inexplicably found dead 24 hours later. No one knows what happened. While his death was unrelated to his auditing, the Church's irresponsible, secretive and evasive responses, coupled with the horrendous revelations of crush regging and human rights abuses worldwide convinced many that the Church had something to hide.

Lise was deeply saddened at the Church's attitude in regards to the McBride family's tragic loss (and as yet unexplained death of their son and brother) and how it was all about the protection of the Church and no care for the individual. When the Church received the news that Lise was going to resign, they sent in people to stop her from leaving. Like many staff they were being kept in the dark with no idea what was really going on in the world. So Lise took the opportunity to enlighten them, by handing them a copy of "What happened to training?" from friendsoflrh.org.

Finally free from the Church's suppressive control as dictated by David Miscavige, Lise did what any normal human being would do, she reached out to the Ed McBride's family expressing her own sorrow and condolences for their loss.

Lise is now an INDEPENDENT SCIENTOLOGIST. What follows is her official resignation from the Church of Scientology, written 19 days ago and just made public today for the first time.

She can be reached at This e-mail address is being protected from spambots. You need JavaScript enabled to view it
# # # # #

To: COB RTC (Chairman of the Board, Religious Technology Center)
     IJC (International Justice Chief)
     CJC ANZO (Continental Justice Chief, Australia, New Zealand & Oceania)
     CO OSA ANZO (Commanding Officer, Office Special Affairs)
     MAA AOSH ANZO (Master At Arms, Advanced Org and Saint Hill
     STAFF, BRISBANE ORG


I, Lise O'Kane of Brisbane Australia do hereby announce my resignation from the Church of Scientology.  My International Association of Scientologists (IAS) card and Class IV C/S certificate have been handed back to Brisbane Org.

The Church of Scientology management in its current form is a suppressive group who are forwarding illegal orders and downright destructive activities from International Management. This  group under "Command Intention" deal in propaganda and lies and promote this widely throughout the world as "unprecedented expansion".  Orgs are empty and hatred of Scientology is at an all time high yet the focus is to get upstat buildings and raise $ for the IAS to solve the problems and attacks. This is a wrong why. You cannot get Scientology within the churches anymore.  The brilliant tech of LRH is just NOT available and in its place is a squirrel version.

In an article in the Freedom magazine David Miscavige said he answered to the millions of parishioners.

Over the last 10 years that I have been involved in Scientology, I have seen the slow erosion of the Org to what it has become now.  The lies and "doublethink" (George Orwell 1984) are rampant through each and every level. The fear to speak your mind is rampant throughout staff members and public.  You can remain in good standing as long as you do exactly what you are told.  You are told to LOOK but this really transcends into ONLY WHAT WE TELL YOU TO LOOK AT.

LRH says in Keeping Scientology Working Series #1 that we only get hit for "no" results or "bad" results. Well HELLO??? Where is your responsibility on this.  All this trouble is self generated and yet is blamed on "SPs."

I could write a very long-winded disconnection letter full of refs that are violated daily and broadly but to tell the truth. I really can't be bothered. So below are some of many major points.
Personal and widespread comms that refer to the Golden Age of Knowledge (GAK) as the source reference. Squirrel [means "corrupted"]. (attached)
Embellished symbols by adding GAK microphone symbol with Dn and Scn ones and promoted broadly in magazines. Squirrel. (attached)
No "real" statistics given in magazines and on Scientology websites with evidence to back them up as true.
No profiles of any Int management staff on any legitimate website except for David Miscavige.
The keeping of outer org trainees at FLAG in Clearwater, Florida for way beyond what is needed for them to fire back into their own orgs to produce. Instead keeping them at FLAG to be cash cows for years under the guise of "waiting for perfection".
The consistent reg'ing for the IAS as the only solution for the planet and using "rewards" and references out of context to get compliance and suppression on each individual to DO these squirrel programs. (attached)
The complete and utter nullification of allowing any Scientologist to freely express any grievances or protests that they have.
The public denial by Tommy Davis that disconnection does not exist. When we ALL know it does.
The use of priest privileged information collected from PC and ethics folders used to disparage people and also embellishing the contents and then either publishing it through Freedom magazine or through the Scientology system of Ethics Orders labeling people as criminals and other nasty terms. If this happened to only 2 1/2% then it might be valid but it's a LOT more than that and would be a lot more if half the public and staff members had the courage to speak freely without the fear of having an ethics order or declare order published on them which was intentionally written to disparage and discredit them.
This week alone, Brisbane Org had Senior C/S Chief CMO, CJC ANZO and a top sea org recruiter directly running the Org on some recruit mission. Nothing personal on these guys they are great people but since when are they our recruiters??? They are management for crying out loud, how off-policy is THAT?? You guys are an absolute shambles.  Its not a question of "having to bypass" because we aren't doing our jobs. You aren't doing yours. End of story.
There is no point trying to correct local orgs because the squirreling comes right from the top and the only way to correct this horrendous scene is by each and every public scientologist to just simply walk away and say NO.
I am now expressing my rights as set by LRH to freedom of speech and I am also taking back my right to freely use my ability gained on Grade 0 "To freely communicate to anyone about anything."  This ability of mine has been squashed for years within the church and yet brilliant in the outside "wog" world.

I am also using my right to assign a condition because I am damned if I am going to wear the condition myself for the lack of assigning it.

I assign the Church of Scientology management and all its entities the condition of TREASON.

I now say NO and hope that others will do the same.

Lise O'Kane
Brisbane, Australia