Wednesday, 16 March 2011 23:44
By Thoughtful

An Independent Scientologist who posts on Marty's blog as "Splog" posted a comment and inspired the article that follows. First, here's Splog's great post:

I thought I'd chime in with some thoughts on what OT means to me.

I'm not OT myself (never did any OT levels), I might be Clear but that's never been clarified. The definition of OT is cause over matter, energy, space, time, form and life.

That definition is not an absolute, there's lots of room for gradients in there. One becomes OT gradiently, much like becoming "educated" – there's no final end point and one can always become more educated that one is today.

Even just managing to live from one day to the next requires some "OTness", how else do you get your body to pick up one foot, put it down in front of the other and move down the street? Somehow or another the being has to pull the strings in the body's brain to make the nerves and muscles operate – is that not being "cause over matter"?

I firmly believe the state of OT is grossly misunderstood and what gets told in Class V orgs doesn't help either. It's not about party tricks and making teapots fly through the air with the greatest of ease – what's the point of that? It's not about canceling out gravity with "mind power" and getting to the moon with no effort – you'd have to get everyone else to agree on not having gravity first

No, it's more about getting things done, and getting them done within the reality framework of the rest of the world. Let's say a real OT wanted to help a poor community become self-sufficient. I live in Africa, so this is something real to me. A real OT would engage people in the village, find out what the current score is, and help them find something useful they could do. They'd have to figure out how to get and use resources, there's funding, finding markets for whatever the decide to produce and a whole lot of getting people up the Tone Scale and actively producing.

Magic and parlour tricks forms no part of this – comm and ARC does. You don't "wave" or "glow" it right – you persist in dealing with the people till things start moving in the direction of survival. You have to have good intentions across the dynamics, you have to be somewhat free of your own doubts and uncertainties to pull it off and you have to be willing to confront people and listen while they tell you all their reasons it cannot be done.

To me, that's what OT must be all about. I don't need a magic teapot that flies (I can rig up an internet-enabled coffee percolator instead  ), I do need to regain the ability to move a group forward to survival.

Maybe a real OT or three can chip in with their thoughts on how near or far to the mark I am?

Flying teapots and parlor tricks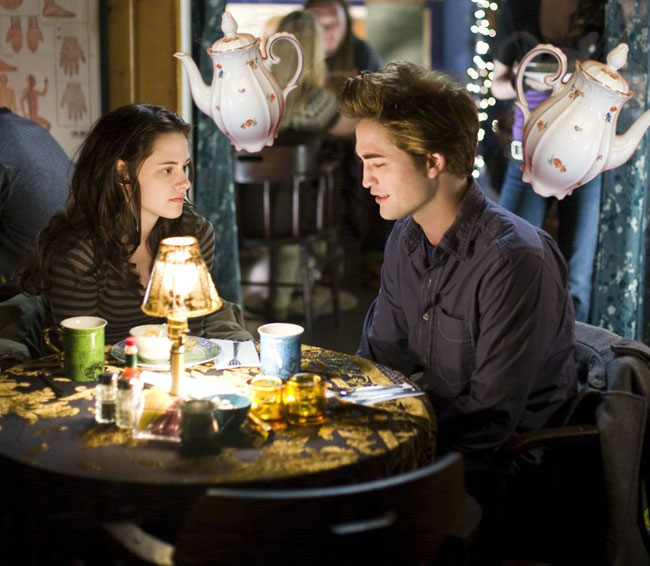 In my opinion, people who say "OT doesn't exist," doesn't understand what OT is.



Splog gave a great example of an OT helping a community. Sure -- of course an OT could do that. But in doing so, it would be so much easier to do if one were OT. Here's how it goes for a real OT. He or she gets the idea of doing something. The desire is there to do it because it sounds like fun, or because it sounds rewarding or interesting. 24 hours later, he's talking to an electrician who is renovating a house and the guy mentions wanting to help out his village. He's wants to teach people how to be self-sufficient, but he needs someone to manage the project. And a little light goes on.

They talk more and the OT thinks, "Wow, what a coincidence" but of course he knows it's no coincidence. As it turns out, the village under discussion is the same place where the OT did some fishing the year before. He loved the people and then remembers making a postulate at the time to help them out one day. Further chatting reveals they have common friends in the same village.

The next day, the OT calls up the common friend in the village (who happens to be a teacher) and it turns out he wanted to get something going and even has a talk scheduled, but needed to bring in a speaker.

That weekend, the OT and the electrician and the teacher are hold their first talk and the community project is born. And the OT does some fishing, too.

And it all happens effortlessly. As if by magic. As if by accident. But it was no accident.

Getting your lightning on
There is an old Zen phrase: "Whatever you are looking for, it is looking for you." Well, the more OT you become the more swiftly the process runs since there is nothing holding it back. Eventually thought alone can create change like lightning and I'm not kidding about that. I learned the hard way to "watch what I wish for."

This is the difference between operating as a spiritual being (dubbed in Scientology, a "thetan," hence "OT") and operating as a material object.

The fact is, you aren't a material object. So it is difficult to operate that way! It isn't normal or natural.

The natural thing is to operate as  a spirit, because that's what we ARE. A spirit "operates" by thought. Observation is a part of that. Communication is a part of that. He or she makes a postulate ("I am going to help a village") or considers something ("Community work would be fun") and things in his environment swiftly fall into place.

The next thing you know, the project is in full production -- sparks and nails and cash are flying. And now the OT is writing a blog about it or a book or what started with one community has turned into a popular movement touching the lives of many people.

That's OT.

But as for the choice of what an OT might do, that could include anything constructive. In addition to defining life as a game, LRH defined life as "having and following a purpose." So that pretty much opens up the whole of life to an OT. Normally, they get involved in a whole lot of stuff and have a ball while doing so.

The reason being OT doesn't include floating teapots across the room is because every game has rules, and in this particular sector of the universe, the rules don't include doing parlor tricks. If you want some tea, you simply use your arm. Or ask someone to pass it to you. Or you postulate someone bringing some to you in the first place.
Got what it takes?
Just because we don't collectively float teapots across restaurants doesn't mean we can't do it. People do the same thing every day, and every person shooting down the idea of OT is himself sitting there doing these same magic parlor tricks in many ways even as he croaks out "There's no such thing as souls" and swigs down some more Christian Bros brandy like someone used to know. It is the most ironic thing imaginable.

A spirit, who doesn't know he's a spirit says it's not possible to operate as a spirit even while he's operating as a spirit in saying that.

It's easy to demonstrate this: Lift up a teapot. Now answer this series of questions:

Q: How did the teapot rise up in the air?

A: My arm moved it.

Q: What moved your arm?

A: Muscles obviously.

Q: What enabled your muscles to contract?

A: Well, there's fibers in the muscles that contract.

Q: Oh, okay. Like threads?

A: Of course.

Q: Good what made the threads contract?

A: Huh…

...you get the idea. One has to face the fact that any attempt to explain body motion purely in materialistic terms rapidly runs out of track. And what is left? Nothing. Or to be more accurately, "no thing."

Exactly.

A being has no location in space, no mass, no energy, no time, but is the creator of all these things.

Mr. "There's no such thing as OT" is sitting there causing motion from nothing, fibers to move, or creating impulses in his brain that chain react down to the muscles and tell them to move (whatever). But at some point, that track when you run it backwards runs straight into a SPIRIT who is just flat out creating impulses and even creating space and time in which to create energy and motion.

So in actual fact, Mr. "There's no such thing as OT" is himself floating teapots across the room. And just because he's doing it on a via or two doesn't mean he's not doing it.

It's no different than having a rubber glove glide into the room on a roller skate, hitting the table and knocking the teapot off and onto the rubber glove which then rolls over to the person. Taking a step back, the OT is making the whole scenario happen. Duh! That's also a parlor trick. Whether he does it on a via or not, what does it matter? It's just a matter of playing by the local rules where he happens to be.

But that doesn't mean if you went to dinner in some other galaxy, you might not be ducking teapots. And probably if you were, there would be some guy saying, "There's no such thing as OT, um-kay? If there was, they wouldn't need teapots, um-kay? But could just send streams of tea through the air and into their glass, see."

And if you went to still another galaxy, where streams of tea were flying across dining rooms in restaurants and kitchens everywhere, SURELY there would be someone saying, "There's no such thing as OT, because if there was, they could just make tea APPEAR in their glass instead of having to make it fly through the air like everyone else."

...and you know, we could keep going all night. "If one was really OT, they wouldn't need to drink tea but could just mock up the taste of it." And so on ad infinitum.

But what are we really dealing with? Someone with crashing misconceptions of what OT is, what a spirit is, what the abilities of a spirit are, and how a spirit operates... and who is in total confusion as to what he or she actually IS. Because he is sitting there DOING parlor tricks and magic, but since everyone does it he discounts it utterly and now wants DIFFERENT parlor tricks before he "will be convinced."

What you really have is a being in a state of confusion as regards the upper dynamics.

Confusion is not hard to handle. One just needs to find out where one is. However, Miscavige, at least at the Int base and I suspect elsewhere sabotaged the application of the Ethics conditions so that they wouldn't work. In short, he forced people to apply them only as meat bodies, and not as beings. Whereas they just don't work that way.

Anyway, the fact is, any able person who is having and following a purpose in life, who is playing the game of life, who is taking some responsibility for the world around them, already is OT. It isn't a status, it is a powerful way of living that enables one to succeed. All people who simply use their minds to make things happen around them, are all validly OT to a one.

How to win enemies and repel people
Life IS a game. And you know, it's no fun to break the rules because as soon as you do, it's not a game anymore!

You can demonstrate this as well to get a subjective reality. Get everyone around for a card game. Deal all the cards to yourself. Announce your winning hand!

How fun is that? It isn't.

But it's not just "no fun" for you. Ask everyone else around the table if they are having fun. They are going to say, "Noooooo."

OTs play by the rules because life is no longer any enjoyable for anyone if you were to violate them.

We all agree to lift teapots using our arms. The arm is lifted by muscles. The muscles are lifted by fibers. But the fibers -- they are moved by sheer OT magic and that's okay. It's okay, because that is arbitrarily what we have all agreed to as okay.

And everyone at the table of life in this particular piece of the universe wants everyone else to play by the rules because to cheat would ruin the game for everyone. YOU basically know this already, and so it's really YOU who limits your own abilities to perform parlor tricks, and you are doing it right in present time.

You kick the soccer, no?
I mean think about it. What do you got going? You are building a business. You are raising a family. You son is supposed to try out for soccer in the spring. He's really into it and the other dads have already asked you to help coach and you have agreed to do that.

Then, one night some traitor (and that's what they would be -- a traitor to the entire human race) floats a teapot across the room at Applebees. WTF!?!

If one person did it, then another could. And another. Now what? How does your kid play soccer when someone 100 feet away in the bleachers can just flick the ball into the net with a thought. So much for soccer. So all the leagues for kids are finished. Pro soccer comes to an end worldwide.

And so goes baseball, football. And as for business, how would it affect that?

Let's look at it. If people can make things move without their bodies would that affect your job?

Example: You have been working hard. You spent a month launching a new project. Did presentations. Increased sales. And one day while writing an email you notice your credit cards floating out the window so some guy can do some OT identity theft. So you run outside to catch your cards as they float slowly across the parking lot toward the open window of a sketchy '73 Oldsmobile. Meanwhile these "real OTs" float your belongings out the back door and into a moving van. The credit cards were just a distraction since what they really wanted was your flat screen iMac. The next day they float your whole house off while you are at work and set it down 1,500 miles away on the shores of Lake Mead for a party you aren't invited to. How do you feel about working now?

Kinda seems like there's no point any more, right?

What would happen to the Dow Jones if someone floated a dinner plate across the room at Applebees? These are the obvious questions no one asks because they aren't really confronting the CONSEQUENCES of "parlor tricks" -- no one is confronting this stuff because they in a condition of complete irresponsibility.

So ONE single person floating a teapot across the table at Applebees could utterly destroy nearly every ongoing game on the planet, and upset all civilization as we know it, BECAUSE nearly every system in our way of life is based on certain fundamental agreements. The agreements are just arbitrary as LRH explains in the Axioms and in the PDC lectures, etc., but if someone was to violate those agreements many if not all of those games would instantly go to pieces. Plunging the entire world into a very upset and unhappy chaos. And like Humpty Dumpty no one would be able to put our world back together again like it was.

Why? Because everyone was just pretending in the first place. Me, you, the other guy, we're all just pretending we "can't" float teapots.

So what really happens is this: As you go OT, one day you might find out you actually can do something and for a day, you do it and have lots of fun. Then you cut it off. Because if you kept on doing it, it would hurt people and disrupt our way of life.
An indescribably bright future
But that doesn't mean the world can't evolve toward floating teapots as "normal." Of course it not only can but will. But it will need to be done gradiently, so as not to be destructive. LRH wrote an issue called "OT Maxims" in the 1980s. It said (from memory) something to the effect of, "An OT must exert his power cleverly as otherwise it could be destructive." (I need a set of the Tech Vols if anyone has a set they don't want). Gradiently, the introduction of OT "magic" into the world would be fine. That's all. So, how much fun could the world of tomorrow become? Damn fun. You could fly your body up in the air and give any bird a run for it's money. It's just a matter of time. In other words, there is a natural, organic progression for these things. Before you go knocking hats off at 20 yards, you have to give people a chance to get used to the idea, as otherwise it would be VERY, VERY, VERY destructive. Down deep, you already know this is true and the easier you can acknowlege that, the more responsible you are.
The world is a cooperative endeavor. But good suggestions are always welcome. That's how an OT operates. He comes up with "good ideas" that easily gain acceptance, which is how he or she can operate "effortlessly."
Has this ever happened to you? You go to a movie and you get so "into" the movie you forget that you're sitting in the audience, in a chair, next to someone? Life works the exact same way. But the "movie" is 3-D. And unlike a movie -- which rolls out according to the way it was already shot and edited (meaning you can't change the outcome), with life you -- sitting right in your theatre seat -- can affect and mold and change what happens up there on the screen.
Okay, maybe you aren't very good at it right now... you say. Or are you? How many people do you know who themselves KNOW certain things just "go wrong" around them. We call this Murphy's Law. "Things always go wrong for me" "The car will always break down if I get in it" -- whatever. There are a million variations. They take responsibility for creating effects outside their own bodies as long as they are negative. Even some beer-swilling ne're do well will proudly crow about how things just "go wrong" for him no matter what he does. Look, if you have the power to affect things remotely so that they go wrong -- just cut off that last few words -- you have the power to affect things remotely. That's huge!
Power is power. You can only make things go wrong around you through the agency of your own power. So if you have ever done that in your life, heck, you also have the power to make things go in a positive direction.
But looping back a few paragraphs, where is that "theatre seat" from which you are viewing the 3-D "movie" of life? Would you like to see? You can, right now. Just do exactly what you do in a movie when you put your awareness back on the movie theater seat you are sitting in. Stop thinking and look.
How far is it to your nose? How far is it to your ear? What is the closest thing to you that you can sense? Can you feel your throat? How about the roof of your mouth? That's getting pretty close. How about the back of your head. Can you feel that? Top of your head?

Now just come in closer than all those things. What happens?
Well, perhaps you can observe for yourself that there is a threshold where space, energy, mass and time lose their meaning. As you draw in closer and closer to your own location in space what do you find? You don't have a location in space.
There is no finite distance from "where" you are, to whatever you view, because you aren't fixed in space. You have no location in space, exactly as LRH describes in the definition of a thetan:
AXIOM 1
Life is basically a Static. Definition: A Life Static has no mass, no motion, no wavelength, no location in space or in time. It has the ability to postulate and perceive.

AXIOM 2
The Static is capable of considerations, postulates and opinions.
AXIOM 3
Space, energy, objects, form and time are the result of considerations made and/or agreed upon or not by the Static, and are perceived solely because the Static considers that it can perceive them.
AXIOM 4
Space is a viewpoint of dimension.
AXIOM 5
Energy consists of postulated particles in space.
AXIOM 6
Objects consist of grouped particles.
AXIOM 7
Time is basically a postulate that space and time and particles will persist.
AXIOM 8
The apparency of time is the change of position of particles in space.
AXIOM 9
Change is the primary manifestion of time.
AXIOM 10
The highest purpose in the universe is the creation of an effect.
You place the world out there to view and then perceive it back. How large is the physical universe for you? Only as large as you are right this moment creating it. How many other beings are even involved in creating the room where you are right this moment? Not that many. Can you affect things in the world around you? Of course you can. I do it all the time. Daily. And it produces a feeling of pure joy.
That is the "joy of creating" that LRH wrote about.
In case of emergency, break rules
While moving up the Bridge, there have been days I could do incredible parlor tricks. One day while on Pro TRs in Austin I found I could move people's attention and make them turn and look. I made someone in a restaurant turn and look at the wall. I made people half a block away turn and look directly at me. I made people turn and look behind them. How fun! I did 10 different strangers in a row. Got every single one to turn and stare at something. They didn't know why they were even looking. A few hours later the ability was "gone." Could I still do it? Yes and no. Ethically, it's cheating. Something about it feels wrong, even thought it was fun to do. However there is one situation when performing miracles is permissible.

Emergencies. And that explains why some housewife can occasionally lift a 2-ton station wagon to free a trapped kid. Everyone knows how to do it and has probably done so at some time in their life.

I've given a couple of ways to prove you are OT. There are others right under everyone's nose. Here's another: Check with any physicist and you'll find out that "mass" is 99.9999999999 totally empty space. You shouldn't be able to make two things collide if you had to. Yet you are doing it right now.

If you weren't OT, you'd slide right this moment through the floor and into the ground. Your clothes would fall right through you.

Nothing should even be able to hold together. There's nothing there to hold anything together since mass is virtually completely empty space.

Yet somehow objects maintain their form and you can even make one "space" able to hold onto and grip another "space" both of them basically empty space. But it's not OT if one of those "empty spaces" is your hand and the other "empty space" is a teapot.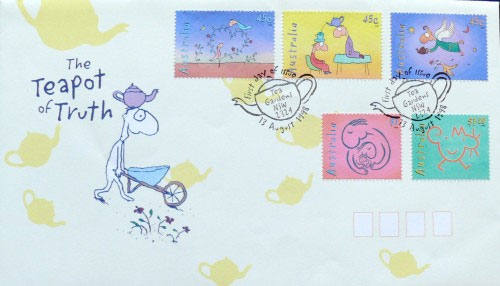 Picture contributed by Indie Scientologist, "haiku"
It really is a joke. Everything around us is magical. You LIVE in a magical world. The more OT a person becomes, the more evident this becomes and the greater his sphere of influence. Moving beyond flying teapots, an OT influences the world around him or her through "thought" which includes postulates, considerations, intentions and agreements. An OT is able to "tap into" higher-level communication lines and forward generally constructive projects more easily. An OT thereby moves up out of the effort band, and into the "effortless" bands of energy that lie above the effort band. You can find plenty of information about this in LRH's books and lectures.

Not to brag, but to explain why I happen to know all this, is I've studied! Between 1994 and 2004 I studied to some 1004 LRH lectures, plus read all his books a number of times. And I applied the tech to my life -- because I had to -- to survive the infamous Int base, since that place is a spiritual death camp. And sometimes it was a physical death camp. My answer to the suppression of that place was to learn the subject of OT better than ANYONE else knew it. And I'm not trying to brag, but the proof is in the pudding. Check what has been accomplished since I started this website. Some pretty sweeping changes have gone down.

I will tell you one thing: it's far easier to apply these OT abilities in a safe environment outside that hell hole than from inside it. However, I learned I could do it anywhere.

But least anyone start to worry about OTs invading the world (which is total idiocy) it's not really that an OT "commands" things to happen around them. That is the most ignorant and wrong assumption. No. An OT rises in responsibility and in ARC for the world around him. He rises into a higher level of communication with all those other people who compose the world around him. His desires and projects are naturally "in sync" with others. It is not really "commanding" things at all, but is much more accurately described as "cooperating." An OT loves other people and wants to help them. Else they would not be "OT." God, how stupid it is to assume otherwise!
Love, faith, communication, reality, affinity, understanding, responsibility, knowledge, good control, integrity, compassion -- THESE are the components of OT. THESE are what enable an OT to KNOW. THESE are what is responsible for an OT's "sixth sense" (and seventh sense and eight sense, whatever they are -- that's a joke).

How OT are you? How much do you love the world? How much compassion do you have for the people who are trapped by life instead of playing in life. Answer that question and there's your answer as to where you sit in regards to OT. Plus you need knowledge and if you haven't studied diligently LRH's OT lectures and books... you're nowhere.
Perpetual motion
Here's another example that proves you already live in a magical world. People say perpetual motion is impossible. You can't spin a top and have it keep on spinning forever. "That violates the laws of physics. Friction would stop it."

Okay, what about an atom? An electron endlessly and perpetually spins around a core and generates a magnetic field and electronic charge. Each one of those atoms has been spinning and never slows down and will go on spinning forever. And virtually every physical thing we are sitting in is made of of these "perpetual motion" engines and yet some people insist "There's no such thing as perpetual motion," "There's no such thing as OT."
Max Planck, the physicist who founded quantum physics said, "As a man who has devoted his whole life to the most clear headed science, to the study of matter, I can tell you as a result of my research about atoms this much: There is no matter as such. All matter originates and exists only by virtue of a force which brings the particle of an atom to vibration and holds this most minute solar system of the atom together. We must assume behind this force the existence of a conscious and intelligent mind. This mind is the matrix of all matter." What keeps all those atoms spinning? You and me. How do I know this? Because if you accept this as a theoretical fact, what do you know? It predicts new data and enables you to do things you couldn't do before. In short, it works. And as LRH said, workability is the ONLY yardstick by which truth can be measured. You got your theory, I got mine. Which one is true if any? The one that WORKS.

Thus, what do we say to these irresponsible people who insist real OTs "prove they're OT" by basically performing different parlor tricks (than the ones we are all already doing all the time day in and day out) with the unmentioned but very real consequences of disrupting civilization as we know it?

You know what? Four words: "Homey, don't play dat." Going OT makes life more fun. It makes you more able to play the game of life because one is more awake. What works better: Driving while you are falling asleep? Or driving while you are wide awake?

I'll wager you're more successful as a driver while wide awake. I'll wager you'll also say it's pretty irresponsible to drive while sleeping because it puts people's lives at risk.

Have you ever been playing a board game on the floor and suddenly the dog runs right across the board knocking everything off? That's what happens when someone interrupts your game. It's upsetting.

OT is by definition more responsible. You can't "be OT" without being responsible, because it is one's very responsibility that makes a person able to discover and perceive how life actually works. So, now that you are OT, now that you are responsible, the last thing you want to do is do the pinnacle of irresponsibility and destroy every single game everyone cares about on the entire planet and make everyone start over from scratch.

Generally speaking, one kind of activity in life isn't necessarily any better or more fun than another. It's more a matter of having a basic purpose and following it. If you are doing that, guess what -- you are living. And if you aren't… you're to that degree not living, man.

That doesn't mean it's okay to do things that are destructive. What OT is going to take pleasure in that?
We'll always have Paris Hilton
But let's take "frivolous" things. I don't love shopping. But if I had a purpose that involved needing some nice threads... okay suddenly shopping is fun. Because I have a purpose, now shopping advances me toward achieving my purpose. There is fun in that.

Once I've achieved that purpose, it ceases to be fun. Many women LOVE shopping. Well, it's because they have a purpose in place and shopping moves then forward in fulfillment of that purpose. So, to them, shopping is "fun."  People who don't have that purpose can't understand what they are talking about and might conclude Paris Hilton is a mindless flake or horribly unhappy inside. I bet you she is not. She goes shopping and gets endorsed by cosmetics and earns a huge income from that. So for her, shopping advances her business of being a very successful fashion plate.

But really, "shopping" is neither "fun" nor "not fun": the activity is not the point.

NO ACTIVITY in itself is either fun or non fun.

NO ACTIVITY in itself is either meaningful or non meaningful.

NO ACTIVITY in itself is either rewarding or non rewarding.

Any activity you care to do either aligns to some purpose you have or it does not.

If it does not, then it is for you not a pleasurable activity.

If the activity does align to a purpose that you have, then the activity is fun, meaningful and rewarding because it advances you along in your purpose.

Think about the ramifications.

This radically alters one's understanding of life, what it's about and how to play it successfully.

When I was a child, I used to look at people doing what I considered "frivolous" things and I'd think, "Is that all life is all about? Just buying stuff?" I collected some material things and it didn't seem to give me much joy. So I wrongly concluded most people were bored in what they were doing and life didn't have any point.

No: one has to create "the point" in the first place and then life does have a point! And meaning! And it's fun!

Life is empty ONLY when your activities don't move you forward toward at least one of your own adopted purposes. The real fault is failing to adopt, select or think up some activity (purpose) you want to do in the first place.

Solving depression
So when you know that, how easy is it to solve "depression." Come on, it takes like 3 seconds to solve. Are you depressed? Dream up something you want to do. Collect twigs that look like animals. Build a tree house. Learn how to dance the Shu-ga-loo. Or the Shy Tuna. (Or if you really like the B-52s, you can be the first person to do the Camel Walk and the Hip-o-crit at the same time and video it and put it on You Tube and then get yourself on Tosh.0). Maybe Paris Hilton's purpose was to be famous. Hey, she did it! She must be having fun.

The moment you start to follow a purpose… oh my God, life opens up and you are having a blast! Life takes on meaning and interest. It's so easy to do.

Someone wants to say "OT doesn't exist?" Well, I just proved it did, and simultaneously laid out a program to preserve all civilization as we know it, and solved worldwide depression, and planted seeds for a sizzling new dance craze.

If anyone wants proof that OT exists, here's the official answer: go look in the mirror.

You think understanding the subject of OT will help us reform Scientology?

It just did.

Thoughtful