Tuesday, 22 June 2010 23:39
A pivotal point in the 1978 movie Animal House occurs when Faber College's Dean of Students plots with the President of the Omega house to bring about the downfall of the Animal House:

Greg Marmalard: But Delta's already on probation.
Dean Vernon Wormer: They are? Then, as of this moment, they're on DOUBLE SECRET PROBATION!



Dean Wormer (DW) had his approach to dealing with his "minimal workers, maximal managers, artists, geniuses, criminals and perverts". (Ref: LRH Lecture AUDITING COMM CYCLES SHSBC 320 6308C06).

Dean Wormer placed Delta House on double secret probation as part of an organized operation to get the Deltas off-campus.

David Miscavige (DM) has his own approach to dealing with in-Church nonconformists (Ref: ibid.).

If someone inside the CofS utters some blasphemy, heresy, sacrilege, fails to toe the line or becomes disaffected they are condemned.

Of course, we must define blasphemy and heresy and sacrilege.

Inside the CofS, these terms are now conveniently defined as reading or thinking or speaking anything that finds fault with or is counter to David Miscavige's misguidance of the Church.  

Heresy, sacrilege, apostasy, and disaffection also include any radical request by the parishioner to be shown an LRH reference that backs up or justifies some "command-intentioned" order, act, program, or campaign.

A parishioner may find himself "summonsed" to see an ethics officer if he's committed the heinous crime of voicing doubts about the utterances, claims, secrecies, whims and PR of David Miscavige.

A parishioner will certainly find himself dragged up in front of Church officials if he dares suggest that a fellow parishioner look on the Internet for information.

(This is because Church of Scientology parishioners cannot look, or see, or think, or evaluate for themselves. If they've started to turn to the Dark Side, it's obviously because their putty-like minds are subject to the imposed suggestions of the Internet. True parishioners could never question the intentions and actions of David Miscavige based on their own observations or suspicions.)

If the entheta, disruptive, enturbulative parishioner fails to come to his senses and recant, he will be declared a Suppressive Person.

The Church is now pumping out so much goldenrod declaring people suppressive that the printed announcements can't be pinned to a notice board. (Such notices were pinned to a notice board in HCO twenty years ago.) The Church apparently  can't risk a cowed parishioner seeing an Ethics notice board three inches deep in suppressive declares.

That would be yet another stat that can't be communicated to a parishioner.

So the solution that has been invented is this: if someone gets declared for speaking some heresy or blasphemy or sacrilege, or publicly associates with a group critical of DM or current Church malpractices, a declare gets drafted and issued to all orgs and missions.  A cover page is attached to the declare telling the local Dir I&R to not post the declare, but to keep the declare secret "for security purposes". What "security purposes" are not specified. But it can only be shown to another parishioner if that parishioner specifically requests to view it. Copies may not be made.

As other "outies" have reported, they themselves never receive a copy of the declare…in the best Dean Wormer "double secret probation" tradition.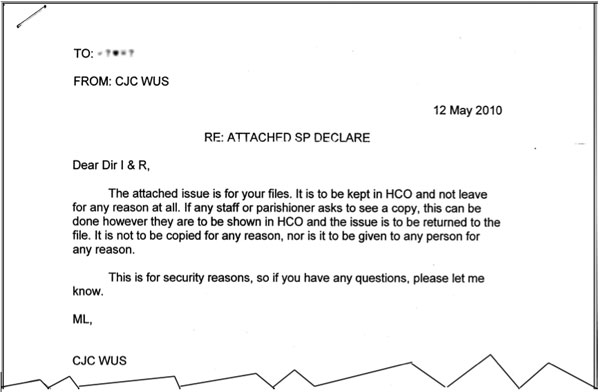 In-baskets in Ethics sections are becoming overloaded with these "double secret declares".

The fascinating thing is that these "double secret declares" are so secret that the person is not removed from Church phone lists, mailing lists and CFs. So the Church is STILL COMMUNICATING WITH THE DECLARED SP. The declare never gets routed to Addresso Officer or CF Officer or Dead File Officer.

Isn't that contrary to DM's HCOB 10 September 1983 PTSNESS AND DISCONNECTION?

No, the effort that is made is to get OTHER PARISHIONERS to effect their own disconnect from the now declared suppressive person. (No matter what the now-vanished Tommy Davis claims on TV.)

But, if the person is to be disconnected-from, wouldn't posting the declare on the notice board go some distance to accomplishing that?

Or, as is more likely, would posting the declare on the notice board be an invitation for a now-cowed parishioner to look up the name of the newly-declared suppressive person on the Internet and find out some actual data about the so-called suppressive person's irresolvable clash with Church officials?

And how many cowed parishioners know about this "double secret declare" procedure? Is it possible that the "double secret declare" procedure has been implemented to make it possible for parishioners with a sense of friendship and loyalty to identify themselves to an Ethics terminal, so they themselves can come under further scrutiny?

Is it possible that DM realizes that "personal contact" is the route by which cowed parishioners see a route to freedom and safety outside the Church? Instead of the fear and loathing to be found inside the Church?

Inquiring minds want to know.

Written by Plain Old Thetan