Saturday, 03 October 2009 14:35
Scientology-cult.com welcomes new writer, The Scarlet Pumpernickel. Like Amy Scoobe, The Scarlet Pumpernickel also witnessed David Miscavige assault Jeff Hawkins. -- Thoughtful  
Observations on Personal Integrity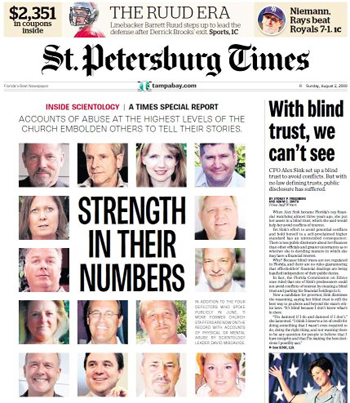 It's taken me a while to write this. I've been out of the Sea Org for a little over two years, and I'm still working every day to get my life back together. I've come a long way, but I'm not nearly at the point where many of my old friends are, able to speak out openly.

However, what I have been reading lately has gotten me so frustrated, I have been thinking about it quite a bit. And now, I have to communicate.

It was sparked by the recent Truth Rundown series of articles and videos by Tom Tobin and Joe Childs of the Saint Petersburg Times -- all excellent, and all true. I witnessed many of the things that others did, specifically the beating of Jeff Hawkins by David Miscavige. I was in the room, right next to Jeff, when it happened.  And frankly, I was scared to death that it would happen to me. Miscavige definitely fosters that kind of fear.

Then I read the rebuttal by the "Church" of Scientology.

Typical. Total denial and blatant lies as their "PR" handling.

That in itself didn't surprise me. I'd seen this tactic before.

What did surprise me, and what spurred me to write, was this response:

"The Church of Scientology provided 25 affidavits and declarations from current and former church executives and staffers who uniformly describe David Miscavige as a kind, compassionate, inspiring leader who never has been violent or abusive, physically or mentally. Yael Lustgarten's statement was typical. 'In all the times I have worked with Mr. Miscavige or seen him working with others, I have never known him to be furious, mad, pissed off, much less hit, punch, kick, slap, choke, push, or inflict any form of abuse,' wrote Lustgarten, who left the church staff in 2004 after 18 years. 'I never witnessed that, ever.'"

When I read this, my mouth dropped open. Literally.

The Truth? Really?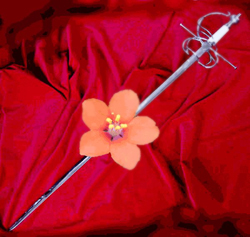 In my 10 years at the Int Base, I witnessed almost all of the things that Yael swears she never saw. What's more, she was there for most of what I witnessed.

More importantly, I spent a day with Yael a few short months before this article came out. We hadn't seen each other in years, so we were swapping stories about our time on the Int Base. Yael was telling me how she'd left the Int Base and what happened to her there, and was complaining about the conditions on the Base pretty intensely.

She was heartily disillusioned and upset about what she'd been through.

There was no way that what I was reading came from the same person I'd spent that day with.

Then I remembered: Yael had told me that she had been disconnected from her parents since she'd been declared a Suppressive Person. Her parents are both OTs, and both work in the Sea Org at Flag -- or at least they did when I left in late 2007.

As the Lustgartens are Scientologists "in good standing" (meaning they tow the Miscavige line), they are forbidden to speak to Yael at all. I'm sure you've read the stories about what it feels like to be disconnected from family and friends just because you choose not to be part of the Sea Org or Scientology anymore.

In our conversations of that weekend when Yael came to visit, she told me about how hard it was for her not to be able to see or speak to her parents -- particularly since she'd just been laid off (she had a high-paying job in the California construction industry before the economy tanked) and was now on unemployment, with no specific job prospects for the future, and couldn't get any help from her parents to tide her over. She had lost her house and her furniture. But money wasn't the point: there was clearly a gaping hole in her life from the loss of her family.

An Ugly Compromise
About two weeks after Yael came to visit, she called me. She told me that she'd just visited OSA and that they were offering a "reduced freeloader debt" in exchange for coming back into Scientology, dropping all your connections to "SPs" and basically providing them with any information on who could possibly be against them (i.e. ratting out your friends). For a better description of what this was all about, check out Steve Hall's video interview in the St Petersburg Times entitled, "Church Asked for Information on Defectors."

Yael told me she was going to do this -- pay a smaller debt and get back in good standing -- so that she could see her parents again. She asked me if I wanted to do this as well, and I said that I did not. At this point, I have no desire to have anything to do with the "Church" of Scientology.



 Photo of Yael Lustgarten, ex-Sea Org member from the Int base.
Is she being blackmailed and used as a pawn by
Tommy Davis and David Miscavige?

After that conversation, I didn't think about it again.

Until Yael's statement in the St. Petersburg Times.

"Ah-hah", I realized, "This is part of her 'handling' to get her SP Declare lifted."

How it works is this: If you're declared a Suppressive Person, the only way you can get back into the good graces of the "Church" is to do a specific program, with five steps, A through E. Step B is to get the person to do the following:

"B. Requires a public announcement to the effect that they realize their actions were ignorant and unfounded and stating where possible the influences or motivations which caused them to attempt to suppress or attack Scientology; gets it signed before witnesses and published broadly, particularly to persons directly influenced or formerly associated with the former offender or offenders. The letter should be calculated to expose any conspiracy to suppress Scientology or the preclear or Scientologist if such existed;"

Now, regardless of whether I agree or disagree with this policy, I can safely say that nowhere in the above paragraph does it say to blatantly lie about what you witnessed in order to get back in the good graces of Scientology.

Yet, that is exactly what Yael has done with her very public communication about how she NEVER witnessed David Miscavige get so much as slightly angry. Which brings me to my next point:

Personal Integrity, Miscavige-Style
While I do not begrudge Yael her desire to get her family back -- in fact, I completely understand it, as my family is so very important to my personal well-being -- at first I could not understand how she could lie so blatantly in order to do it.

Upon further reflection, however, I see what has happened: Yael feels she has done nothing wrong. She has lied in order to protect the "greater good," as Miscavige would have you believe. Instead of saying what she has observed, she is saying what she thinks she needs to say in order to "protect the Church". In fact, what she is doing is disavowing the most fundamental of fundamentals for a Scientologist.

Personal Integrity, as L. Ron Hubbard wrote in his essay of that title, is as follows:

"What is true for you is what you have observed yourself and when you lose that you have lost everything.

"What is personal integrity?

"Personal integrity is knowing what you know --

"What you know is what you know --

"And to have the courage to know and say what you have observed.

"And that is integrity.

"And there is no other integrity."

However, in David Miscavige's Scientology, there is a whole different definition of Personal Integrity:

Personal integrity is what David Miscavige says you have observed. And there is no other possibility.

That's why you see people like Guillaume Lesevre, Greg Wilhere, Marc Yager et al, stating in all sincerity that they have never been attacked by David Miscavige in any way, and that they have never even observed this.

They KNOW this is the right thing to do. They know it to their core. They have been conditioned that way.

Cult-like Devotion
In studying the characteristics of a cult leader, one point that comes up over and over again is that they use mind control techniques to foster a complete, unswerving devotion in their followers.

This has been documented over and over again in many studies, however the following, from Robert J. Lifton (read his Eight Criteria of Mind Control Cults, written in 1961, if you want a real eye-opener), gives a pretty good picture:

"Doctrine Over Person

"Human experience is subordinated to doctrine, no matter how profound or contradictory such experiences seem. The history of the cult is altered to fit their doctrinal logic. The person is only valuable insomuch as they conform to the role models of the cult. Commonsense perceptions are disregarded if they are hostile to the cult's ideology."

So, in this case, it's perfectly logical to state that there was no violence, as by stating there WAS violence, it would bring about the destruction of Miscavige's entire belief system. And for some, that's too hard a pill to swallow.

To Thine Own Self Be True

So, Yael, I do hope you find the happiness you're looking for.

I'm glad you're getting your family back.

But I also know, through my own journey, that you will never find true peace until you are true to yourself.

In the words of William Shakespeare, from Hamlet:

"This above all: to thine own self be true,
"And it must follow, as the night the day,
"Thou canst not then be false to any man"


Written by the Scarlet "Pumpernickel"!
"We seek him here, we seek him there. Those Frenchies seek him everywhere!
Is he in heaven? Or somewhere fickle? That damned elusive Pumpernickel!"