Blogs -
Thoughtful
Wednesday, 03 November 2010 08:46
Following up on the attack on Marty's website yesterday, now someone going by the name LT has shown his true colors by sending out some idiotic propaganda this morning in the form of an email from " This e-mail address is being protected from spambots. You need JavaScript enabled to view it ."
He says "We, the Independents, have been deceived." Oh yeah, right... "There is no large-scale independent movement as Marty as tried to sell us." He says he's "really disturbed" because the Indie movement is really only 7 1/2 people using hundreds or even thousands of pen names.
You know, there is stupid and then there is David Miscavige.

There is missing the boat and then there is missing the entire ocean.
Obviously the CoS robots are under orders to not-is the size of the Indie movement because, as per usual, their reliance upon DM's convoluted Frankenfurter brain + his complete inability to select the correct target + the idea that the Indie movement is actually helping people (which drives him wild)... instead of using LRH's Data Series has led them to a wrong Why. Apparently they think the only reason the Indie movement exists is because "We, the Independents" think it is a "big movement."

For once it's actually true that size doesn't matter. The size of the Indie movement is irrelevant. What does matter is our message.

The reason the Indie movement has caught on and continues to grow is because it is based on a correct Why.

The handling for the Church is to blow the whistle on the subversion of the Church of Scientology by a corrupt self-appointed sociopathic dictator. The program is to get in Ethics. The purpose is to reopen the Bridge which has been slammed shut by out tech, out ethics and off policy actions all emanating from David Miscavige.
It all started with Scientology-cult and it continues to grow. Scientology cult was the first application of LRH's multiple viewpoint system where Scientologists could blow the whistle and start pulling the overts (exposing the crimes) of the Church of Scientology. To date, we have impinged and have forced large changes to take place: including getting them to knock off some of the forced abortions, and extortion of ex-staff through illegal freeloader's debts. Yet the organization continues to commit continual new overts daily. So we have a lot more ethics to get in before the this organization shows any faintest glimmer of sanity.

Scientologists have joined the Indie movement because they agree with the purpose as stated above; because they are sick and tired of the abuse and corruption and stealing of their money; and because the fundamentals of Scientology include "doing something about it"; making a safe environment; and having the courage to state what you have observed. Scientology is all about auditing; so we are auditing. It is about truth; so we are simply embracing that.

The Church of Scientology is NOT what LRH envisioned. It is about as off purpose as it could possibly be, handing out free lightbulbs to passers by in San Francisco to lure them in for a "tour." Raping parisioners for every last cent and stealing their children, too. They have no routes for new people in because DM has poisoned the Church's image and because today the Church has failed to deliver so the public stay away in droves. So much so, that now DM orders his Golden Era Productions to hire hundreds of non-Scientology "extras" (actors) to fill in empty seats at the last 2009 IAS Event.

The torch of Scientology and all it represents has passed to Independent hands.

Thoughtful


Blogs -
Thoughtful
Sunday, 18 July 2010 21:37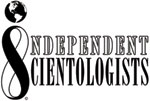 Truth makes friends in all places. The strongest people in this world -- that's what they stand for.

I received an email today from an individual who has been following our struggle in Scientology-cult, Marty's blog, Jeff's blog, Amy's blog and more.  As she explained, her name is Spike and she posted a song on YouTube to salute the spirit of Independent Scientology and the FreeZone. Although she is not a Scientologist herself, she supports our struggle against Miscavige and so wrote this song, inspired by a phrase in one of the "Little Dickie" stories. I thought it was a terrific work of art and I think you will get a bang out of it like I did so here she is performing "Pour it on":
&
Spike spoke about the song on her new blog which you can visit here. Here is what she said:
Now that I've got a blog of my own, I can post this song I wrote for Marty Rathbun, Mike Rinder, Amy Scobee, Jeff Hawkins, Steve Hall, and all the other Independent Scientologists and FreeZoners. Your struggle has inspired me. Pour it on!
Here's the lyrics:
Pour It On
Pour it on, pour it on, pour it on, pour it on
As the rushing water wears away the stone,
Pour it on, pour it on, pour it on, pour it on
Wash away the lies and let the truth be shown
From the land of justice flows the river of freedom,
But there's people banned from drinking there,
Now it's time to stand and let the cleansing waters of truth flow everywhere
(Chorus)
Pour the truth upon the lies and watch them crumble,
Pour on light to chase the dark away,
To the dim confusion, pour out all your knowledge to change night into day
(Chorus)
Now it's time to re-connect the disconnected,
To reclaim our future from the past
Let the time come soon when every single prisoner emerges free at last!
(Chorus)
Thank you Spike for setting an awesome example for everyone to follow by showing the world how to POUR IT ON! -- Thoughtful

Blogs -
Thoughtful
Wednesday, 07 July 2010 06:28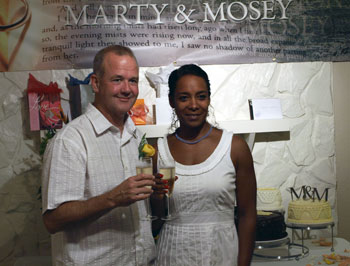 As announced on Marty's blog, the first Independent Scientologist wedding was held at Mike and Christie's house in Tarpon Springs, Florida on Saturday, July 3rd. Mike Rinder was the Scientology minister. It was a joyful occassion to say the least and you will soon be able to watch it yourself on video.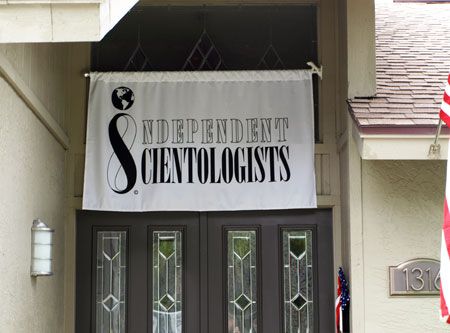 On Sunday, July 4th, was the first Annual Independent's Day party!  I designed a logo, a flag, and a couple of banners for the occassion. There was a pool party, great stories, great food cooked by Mike and even fireworks. While Jackson and Michael Laws were lighting fireworks, a PI hired by the Church rolled to a stop a few yards down the lane aiming for the fireworks and people who were standing in the middle of the quiet neighborhood street. The PI floored the accelerator. Jackson stood his ground and the PI swerved at the last minute failing to do any damage at all.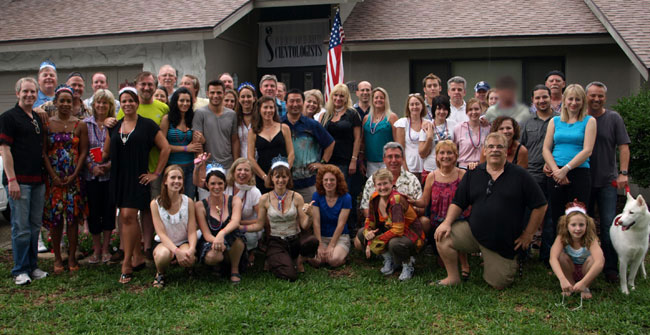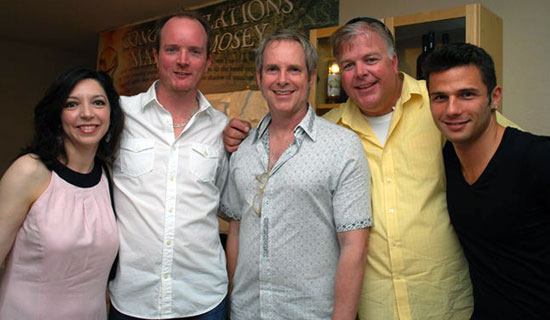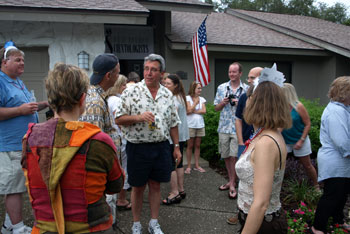 Coffee shop protest
So the next morning we all had coffee at Starbucks in downtown Clearwater across from the Flag training building and the Coachman Building on the corner of Ft Harrison and Cleveland.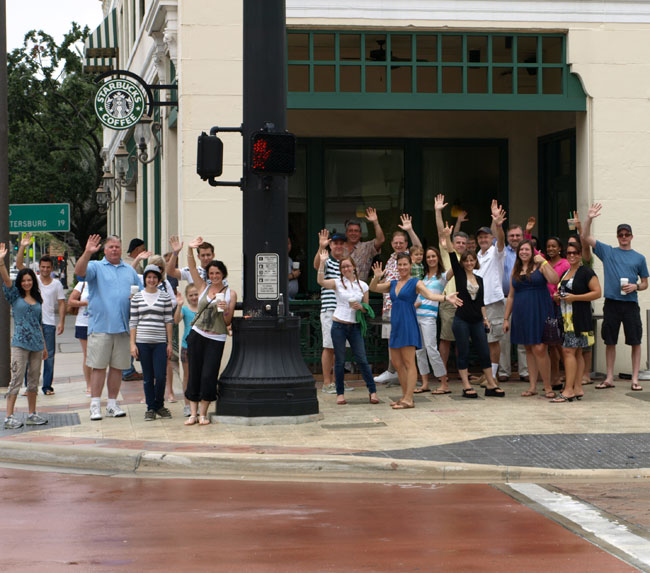 Secretive Scientology security guards watched from a safe distance. As soon as they saw my camera, they scurried away which got everyone in our crowd laughing. Tiziano walked over and caught them trying to figure out who was present by comparing photos on a clipboard. He said I can tell you who's there. It's not a secret!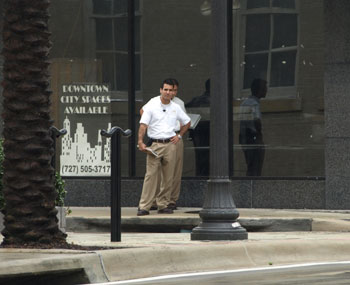 Dramatizing the missed withhold of near manslaughter from the night before, OSA took drastic action by demanding an armed SWAT team from Clearwater police... okay, come on I'm joking about the SWAT team, but these total goony birds DID call the police! Can you imagine how insane that must appear to the Clearwater police -- to call the police on a bunch of well dressed people having coffee at Starbucks? Oh, brother. Anyway, a lone officer arrived who pointed out it was not against the law to drink coffee. Jim Logan got in comm with him and he was a sharp and intelligent professional gentleman who clearly understood the real situation. This brings up an interesting situation which is the reality gap. When one refuses to deal in reality... what happens? Well, I'm sure if Rod Serling was here he would tell us that as one journeys into unreality he or she finally arrives at the last waystop: delusion -- as illustrated in the curious case of the Church of Miscavige. In situations like this, when the rest of the world is just dumbfounded at how whacking crazy the Church is acting, the DM-bots are doing high fives -- congratulating themselves for "putting in ethics!" It's no different from some guy just ripping someone apart in the city park... only no one else is there... and giving high fives to a tree. Everyone else is looking at him and thinking "Wow, that guy has been sniffing crazy glue."  The reality gap is getting wider and wider.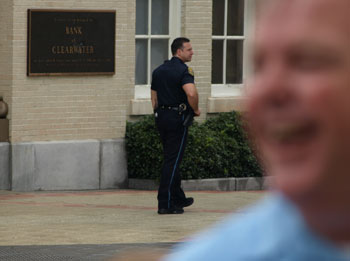 Of course we had a good time at our coffee shop protest with plenty of laughter, stories and smiles.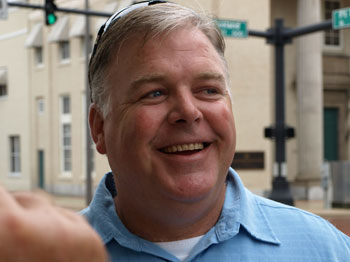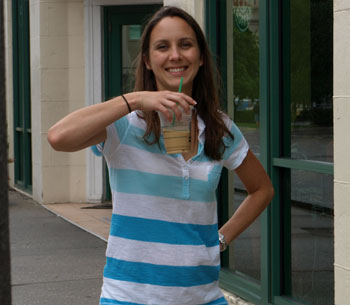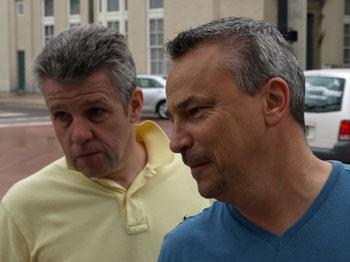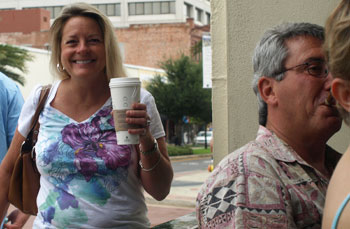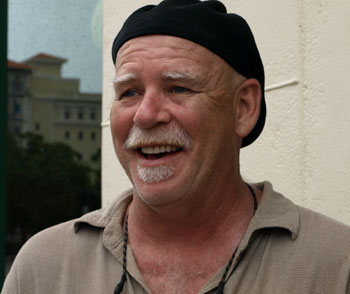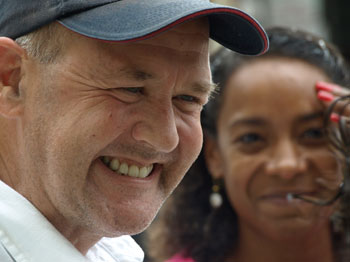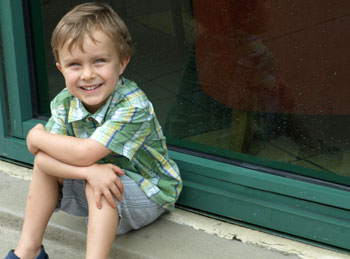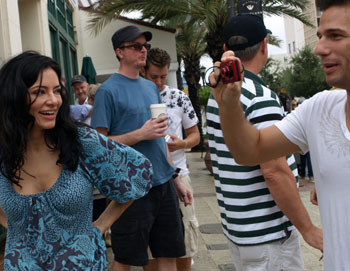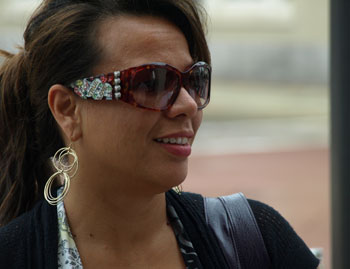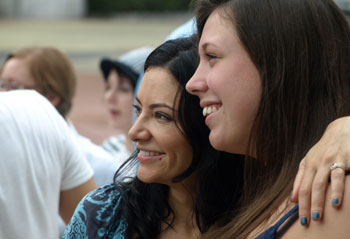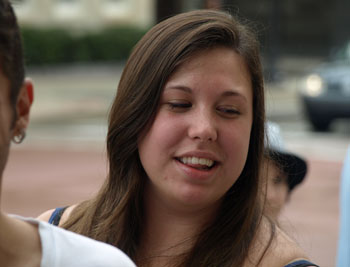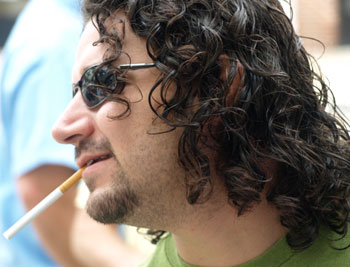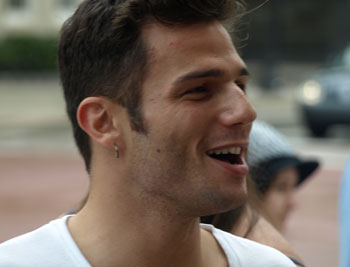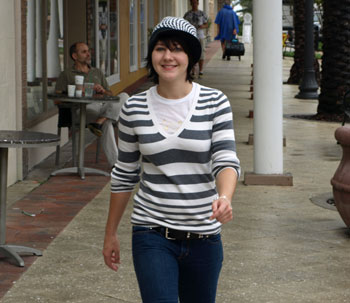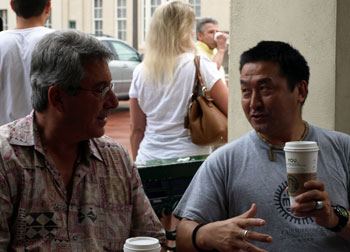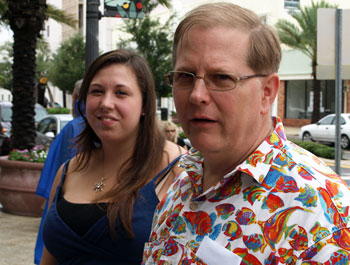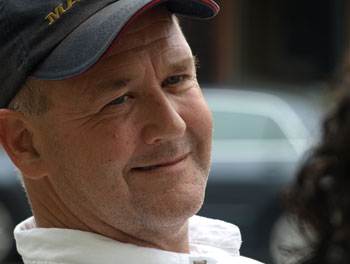 After the party, those with an early plane went to the beach while others went fishing. At Clearwater beach, the sea gulls swarm around like IAS regs after money.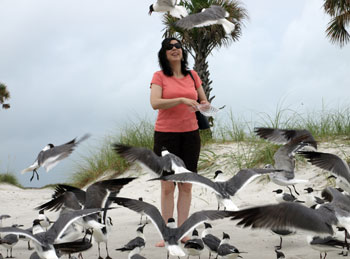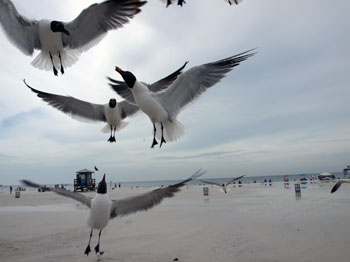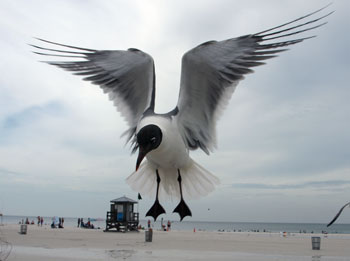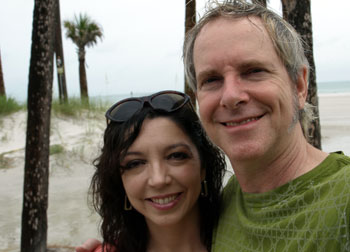 I noticed that David Miscavige's intentionally unfinished 12-year building project to scam Church parishioners out of hundreds of millions is still "incomplete" -- why finish it as long as it works as a cash cow?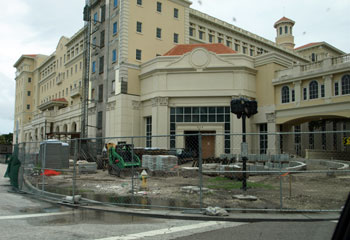 And downtown Clearwater which once thrived is now largely deserted since no one is allowed to do any shopping. So much for supporting local businesses. Here is what actually happened: (1) Through RTC Reps David Miscavige declared going shopping "out ethics." (2) By cutting off customers, he starved out local businesses and drove them into bankruptcy, (3) Any liquid cash brought by Scientology public could then more easily be re-routed into the pockets of David Miscavige via the IAS for "urgent Church programs and defense" but really so David Miscavige can live wealthy. Because Sea Org staff and public are not allowed to come and go freely, he is basically a slave-holder shielded by a cloak of religion, dealing in human trafficking and growing rich through extortion.
But alas, Miscavige's master plan has backfired: the "friendliest place in the world" is a ghost town.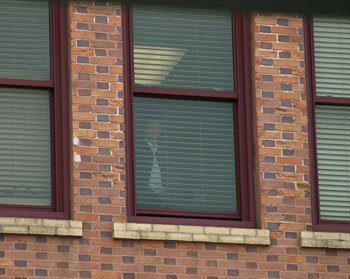 BTW, according to Shelly Miscavige before she "disappeared," Dave was having an affair with Jenny De Vocht. God, it's good to be free from that immoral, hellish perversion of everything L. Ron Hubbard stood for.
Written by Thoughtful
Blogs -
Thoughtful
Friday, 02 July 2010 16:55
SPYMASTER MISCAVIGE CAUGHT RED HANDED (...again)
"1.1 -- Uses sly means of controlling others, especially hypnotism.

"1.1 -- Ingenious and vicious perversions of truth. Covers lying artfully.

"1.1 -- Nullifies others to get them to level where they can be used. Devious and vicious means. Hypnotism, gossip. Seeks hidden control." (LRH - Science of Survival)

Ever hear the word "pretexting"?  Pretexting is a ruse where a private investigator lies about his identity or purpose to obtain data about another individual they can use to their advantage. This article is intended to warn you so you are prepared and won't be caught off guard.

Pretexting is the act of creating and using an invented scenario (the "pretext") to engage a targeted victim in a way that will likely result in victim divulging information or doing something that gives the other side an advantage. This is often done through a phone call or a text message. Examples to follow.

More than just a lie, it most often involves some prior research or setup and the use of assumed information for impersonation (e.g., date of birth, Social Security Number, last bill amount) to establish legitimacy in the mind of the target.

This technique has been used on myself, and on two other occasions when by a fluke I happened to be standing there: with Mike Rinder and another time Marty.

The ploy is intended to trick you into disclosing information such as your exact location. It's run by private investigators working for Church attorneys.

A pretexter may use a variety of strategies to obtain personal information. In one scenario, for example, the pretexter might call an individual claiming affiliation with a phone company, survey firm or credit agency. In another scenario, a pretexter might claim to be a customer, client or employee of a company to gain access to phone or electronic records.
My experience
Last month I went to Los Angeles as a witness in an upcoming trial involving the Church of Miscavige

The night before I left, Miscavige wanted to know where I was so made seven pretexting attempts to find out where I was -- four text messages and three phone calls as follows. Now in their case, they mix it up with a little hacking:

7:31 PM 
PHONE CALL from 1 (214) [displaying my own cell phone number so it looked like my own phone was calling me]  TX, USA

7:32 PM
PHONE CALL from 1 (214) [displayed my own cell phone number]  TX, USA

7:33 PM
TEXT MESSAGE from 1 (410) 000-001:
FMR: This e-mail address is being protected from spambots. You need JavaScript enabled to view it
MSG:Your account is over the limit please call 866-377-0940 ext 2592 to resolve this issue if we don't hear from you the account will be disconnected(End)

7:43 PM
TEXT MESSAGE from 1 (410) 000-002:
FMR: This e-mail address is being protected from spambots. You need JavaScript enabled to view it
MSG:Your account is over the limit please call 866-377-0940 ext 2592 to resolve this issue if we don't hear from you the account will be disconnected(End)

8:07 PM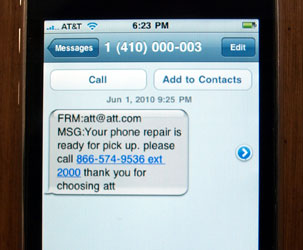 PHONE CALL from 1 (214) 911-9111  TX, USA
This one I answered by accident. A woman said, "Hi, this is Sarah from the 911

8:09 PM
PHONE CALL from 1 (214) [displayed my own cell phone number]  TX, USA

9:25 PM
TEXT MESSAGE from 1 (410) 000-003:
FMR: This e-mail address is being protected from spambots. You need JavaScript enabled to view it
MSG:Your phone repair is ready for pick up. please call 866-574-9536 ext 2000 thank you for choosing att
At right is a photograph of that last text message I received.
In addition, there were 113 failed attempts to hack into Scientology-cult.com on the same day, a spike.
How stupid is this?
I think I know who they've hired for their PI work. Napoleon Dynamite... who sub-leased the work out to his brother Kip... who in turn gave the job to his moron Uncle, the one who lives in an old van. I mentioned by sheer cooincidence I happened to be standing with Mike and later with Marty when the Church pulled the same stunt. But how do I know for sure it was the Church? Well, when it happened with Mike, I took a photograph of his phone.
You'll note the phone number is the SAME.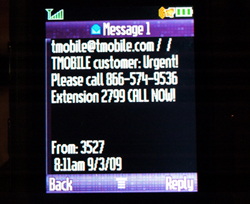 Written by Thoughtful
Blogs -
Joe Howard
Friday, 02 July 2010 07:06
When he first announced the project to make training films for Academy students, LRH let us know that we would also be the actors in the films. The first shooting script was issued to the crew and we learned that it was called The Professional TR Course. There were about 30 scripts for tech films and he starts with the most fundamental of fundamentals, TRs.

We read the script and the story was, as many know, about a lousy field auditor who gets put through the wringer on a TRs course and is thus able to now get good results on his preclears. Believe it or not, the script did not read as a comedy, which the final product assuredly was. LRH just got the essentials down: the shot, the setting, the action, the characters and their dialogue.

We began discussing who should try out for which part. I was being pushed to try out for the lead character, Joseph Aaronberg Howard, and I wasn't altogether sure whether this was meant to be a reflection of my past auditing, though I hadn't really worked as a field auditor, just mission staff. But from some of my early TRs critiques it was pretty evident that I definitely could play the part of the bumbling Joe Howard. LRH set about to make sure I could play Joe Howard at the end of the film as well.

A few of us tried out for the lead role and I got the part. LRH sent me congratulations and began sending me despatches about what was expected, simply that this film was going to be the model of TRs for all Academy students in the world. Gee, is that all, Sir?

The auditors had resumed sending TR tapes back to LRH when he returned to the base at New Years and the responses were pretty good all around as I recall. I was auditing a couple of his messengers and would tape sessions and send them up for critiques. The replies were very helpful. LRH had a knack for zeroing in on the most major departure and commenting on that alone, which made it clear what you had to work on in cramming before your next submission. I was really proud when I received one tape back that was a pass. I think I was one of the first or maybe the first to get a pass.

Auditing a session was one thing and demonstrating TRs on film was another, however.  One evening we assembled in the studio for some rehearsals. I was running through a scene and was playing it a little stiff, which is a kind self-assessment on my part. In reality, LRH must have thought he was trying to direct a pine log. He asked me what was going on and I said, truthfully, that I had a bit of attention on the camera. It wasn't even a real camera or certainly one that didn't have film in it. He handled my origination as evidenced by the fact that today I can't remember exactly what he said and the rest of the rehearsal went fine.

The next morning Rich Cohen, the new Qual Sec came to me saying we were going to go in session. "What for?" I said. "I don't need a session. I'm doing great."

"You have an LRH C/S in your folder," Rich replied, and off to session we went. LRH had C/Sed me to handle any engrams, etc., on the subject of cameras by running them out with Dianetics using good old R3R. Later that year, LRH issued the datum that someone who was Clear or OT should not be run on Dianetics. I feel fortunate that I made it under the wire because that session had the most immediate demonstrable effect on my case of any Dianetics I have received. Before that session I'd had no idea the devious uses a camera lens had. Guns, rays, lasers, all kinds of weapons can masquerade as a harmless camera. And I certainly had had my share of misadventures on all flows in that regard. Rich did a great job and from that day forward I've never had even a hint of camera shyness and certainly no attention whatsoever in front of a film camera. My unknowns regarding cameras got thoroughly handled in that single session. Clearly, LRH was going to use all the tools as his disposal to make a good film even if the lead actor can't sit calmly in front of a firing squad--errrr, film camera.

The film was a do it yourself project all the way. The old date packing plant was the studio. Two large storage sheds served as the costumes and make up areas. The Estates carpenters became the sets and props fabricators and sets began to show up in the studio. The opening scenes show Joe doing his routine TR renditions on a series of his preclears. The sets for these shots were meant to contribute to the mood of the scene and LRH went over the top in pushing that notion. He found resources that talked about mood lines in works of art, architecture and design and he applied them heavily in dressing and lighting these sets. Everything, sets, props, costumes, make up and lighting pushed the mood of the scene being filmed. LRH wanted no mistake made that these were the bad TRs. Of course, as an auditor, these were immensely fun to do. Chewing gum, doping off, hammering the meter when it won't work--it was fun to dramatize all the things that we as auditors do all the time in real sessions! (Just joking, people.)

I recall one scene where the preclear, Pam Daugherty, goes into a sad effect as a result of Joe's utter lack of TR 2. At the end of the scene she slumps down in her chair and the meter leads slide off the table, paralleling the depressing mood of the shot. LRH had Waldo lying just out of frame with a string tied to the leads and he pulled them at just the right moment to make them fall off the table. (Well, after the third of fourth take he did.) As I said, LRH crammed everything into every shot to forward the message he was trying to communicate.

One day I was in the make up shed and in walked LRH and a couple of messengers. He was wearing his opera cape and had on his black stetson and looked really sharp and was in a great mood. He wanted to run me through my lines for an upcoming scene where I'm auditing a pc through an engram on her feet.

"Let's hear your lines," he said.

I went through my scene including the line, "Scan through to the end of the incident."

LRH pulled out the script. "That's not how the line goes in the script. It says here, 'Move through to the end of the incident."

"Yes, I know, Sir," I back flashed, "but an actor has the right to vary his lines and Step C of R3R is 'Scan through to the end of the incident.' Every auditor in the world says it that way."

I was merely being a good soldier and saving the embarrassment of a wrong command going out in one of the tech films. Of course, LRH saw this as not only a red flag but a red skyrocket the size of Titan missile.

"What?" LRH said. "Get me the Dianetics pack," he said to a messenger who scurried off to Qual to find the pack. In a few minutes she was back and LRH opened it up to the Holy Grail of R3R procedure, BTB (I forget the date now) ROUTINE 3 REVISED, ENGRAM RUNNING BY CHAINS.

"I didn't write this," LRH said. "It's wrong. If the pc just scans through the incident he won't get enough charge off to unburden the chain."

And that was the conception of New Era Dianetics, which would be born several months later in July of 1978. Undoubtedly, NED would have eventually made its way into the world, but it was undoubtedly hastened by my fortunately unfortunate remark that morning.
Written by Joe Howard
<< Start < Prev 1

2

3 4 5 Next > End >>


Page 2 of 5