Karen de la Carriere Blog
Saturday, 25 October 2014 16:14
&
Jeffrey Augustine explains why the Church of Scientology's 1993 tax exemption was not an exceptional event as the Church makes it out to be. Essentially, tax exempt status is not a "Seal of Approval" by the US Government. Tax exempt status simply means a group has met certain criteria to qualify for exemption.
Tax exemption merely and only proves that the Church of Scientology is tax exempt; it is not in any way a government approval or endorsement of Scientology.
Friday, 24 October 2014 18:22
Channel 9 Australia: Mornings with Sonia & David interviewed Karen de la Carriere and even called her "The Queen of Scientology." Cllick here to watch.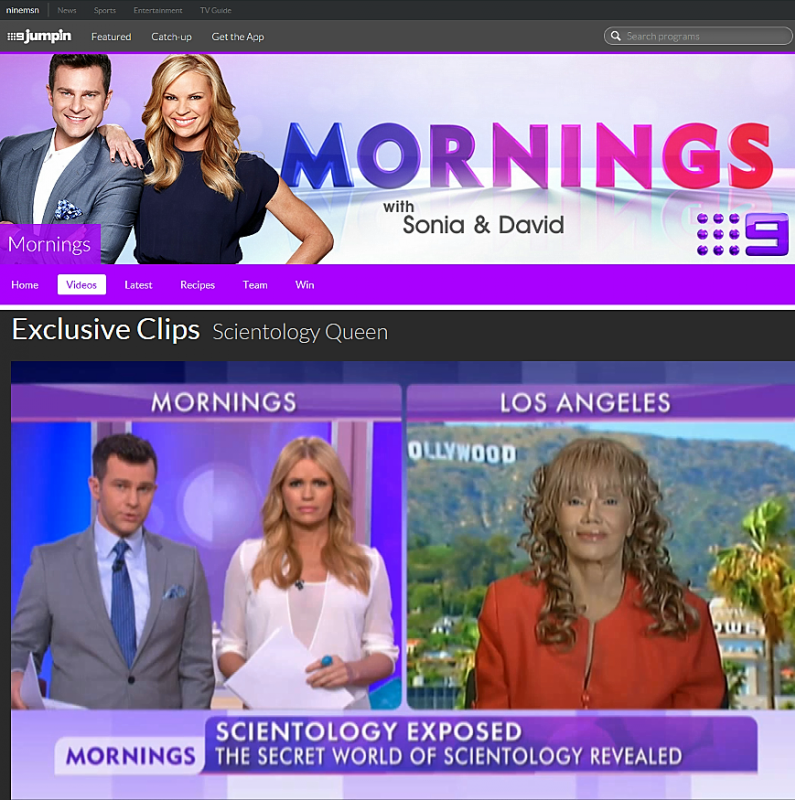 Wednesday, 22 October 2014 13:10
&
Escape from a Cult is never easy.
In the Cult of Scientology, it has been a practice of tracking down the escapee like a hounded animal and bringing them back to the campus. This is founded on fear of what the escapee will reveal of what goes in behind the guard gates and their intense "Security" .
Here is Part 1
https://www.youtube.com/watch?v=zQHsZ...
Thursday, 16 October 2014 16:38
&
The "Church" of Scientology is set up to be an Intelligence Operation.

Every session is recorded. Even sales cycles on high value wealthy people is recorded where other "Sea Org" members in other rooms monitor what is being said.
The "buttons" or reactions you have voiced are played on by being harvested out of confessional folders and fed to the registrars (sales people)
At Office of Special Affairs , the 10th and 11th floor of 6331 Hollywood Boulevard, some 100 Sea Org members safeguard and firewall Scientology's dirty deeds with Lawyers, Private Investigators and a host of other employees.
Anything goes. Anything to cover up the horror stories and spin and lies are the order of the day.
Anything to save the longevity of Scientology and the end result? Get those Titanium slabs into the mountains of every word Hubbard has ever said on paper, tape, film.
Saturday, 11 October 2014 20:23
&
Hanging in the atmosphere like a malevolent black cloud in Scientology communities is the suspicion of the *EVIL* ::::Cough :::::Cough :::: "EXTERNAL INFLUENCE".. Laughter.
Current Tony Ortega's BUNKER (due to very high stats on Alexa, way way higher than Scientology.org) ~~ The Bunker is THE most threatening, most high risk of creating an external influence.
Any person, internet site, YouTube video, Amazon book, daily Blog, TV programs and especially a relative or friend who is even mildly critical of Church conduct, or even REVEALS current affairs the Church wants hushed up is an "EXTERNAL INFLUENCE".
A person the Church discovers who is being externally influenced is segregated from others and sent to the Public *Ethics* officer to identify his INFLUENCES for OSA (Office of Special Affairs") handlings. It can cost $50,000 to $100,000 in Sec checks (confessionals) These Sea org members, Ethics Officers and OSA INT Sea org members are not on drugs. They are not on alcohol. They are stone cold sober. Stone cold obsessive. Stone cold paranoid on outside influences that could burst the Bubble.
In other words, the Church wants to be the ONLY influence and considers *ANY* influence other that fundamental Hubbard's doctrines to be insidious, predatory, stretching with octopus tentacles into Church rank and file and negatively INFLUENCING the mind set. Scientology is basically a culture of isolation. Hence the Public and staff are forbidden to read the Internet. Sea Org members are not even permitted to go their local library, leave alone surf the web.
Parents who demand some Christmas/Thanksgiving time with their own children (that they have turned over to the Sea org) are considered "external Influences". Sending gifts. money to own kids can be viewed as such.
This is carried on to such an absurd degree, that almost ANYTHING that is not 100% Scientology or Sea Org 24/7/365 can be deemed an "EXTERNAL INFLUENCE".
In Part 2 of this Video I will explain "Rollback technology" that the Church dramatizes with inquisitions and investigations on these "EXTERNAL INFLUENCES" that Scientology feels is *corrupting* the purity of total devotion to Scientology at the level of sacrifice of every thing else.
Wednesday, 08 October 2014 14:38
&
Church of Scientology Public Relations lies again. Lies to the BBC that Hubbard never implemented punishments that were "too Gruesome" HCO Policy Letter of 5 January 1968, "Overfilled In-Basket, Bad News." Hubbard said
"MAKE THE PENALTIES FOR NON COMPLIANCE AND FALSE REPORTS TOO GRUESOME TO BE FACED AND ENFORCE THEM."
In the same issue, Hubbard also said, "It takes far more ethics and far steeper, enforced penalties to make an organization work than Scientologists have been using."
Please listen to the last few minutes as the Church spouts their lies about unprecedented expansion ! Laughter !
 
Saturday, 04 October 2014 22:13
&
This is important history on the "Church" of scientology and how embarrassed it was at FBI investigating them for human trafficking.
Mirrored from 2011 interview.
Larry Wright acknowledges that he had actually talked to "Human Trafficking" FBI agents who were investigating Scientology Inc.
Wednesday, 01 October 2014 22:26
&
There is no getting away with it when you mess up, the Scientology viewpoint is you had criminal intent. There are no mistakes, no accidents, there were EVIL INTENTIONS to Harm Scientology. The only reason Scientology Inc has not taken over the world, is Someone is to blame!
 
Tuesday, 30 September 2014 22:25
&
Tom Cruise has received a lot of favors from scientology Clergy who have given manual labor to pimp his real estate.
Here is an example: http://markrathbun.wordpress.com/2010...
Tom Cruise had a fantasy of running through a field of wild flowers with Nicole Kidman and Sea Org members went into sleep deprivation to plant these flowers so that Tom could live out his fantasy at the Church Property (Int base/Gold Base)
Monday, 29 September 2014 16:33
&
Fascinating story. Scientology deceptively tries to BUY good Public relations ~~ they made an AD look like Atlantic magazine journalism. Praising David Miscavige as a leading figure of our age ! The flap was gigantic. The President of Atlantic Magazine was gotten out of bed at 11pm to pull the shameful CULT advertising down.
Read more ~
http://www.slate.com/blogs/the_slates...
Radio Podcasts
http://www.survivingscientologyradio....
<< Start < Prev 1 2

3

4 5 6 7 8 9 10 Next > End >>


Page 3 of 26