Blogs -
Thoughtful
Saturday, 18 June 2011 15:19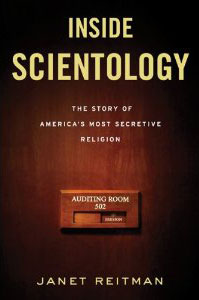 by Thoughtful
The first mainstream book to expose the truth about David Miscavige
Something has happened — Janet Reitman's new book, Inside Scientology. This book has opened doors that few serious journalists have dared peer behind, much less open wide.

Dozens of Scientologists and former-Scientologists representing a panorama of opinions, pro and con, contributed their knowledge and data, and many are quoted throughout the book. Among them (in no particular order): myself; Dan Koon; Sinar Parman; Mark Fisher; Steve "Sarge" Pfauth; Tom De Vocht; Don Jason; Jason Knapmeyer; Amy Scobee; Mat Pesch; Jeff Hawkins; Bruce Hines; Mark and Claire Headley; Stefan and Tanja Castle; Jason Beghe; Greg Barns; Chuck Beatty; Mike and Donna Henderson; Anne, Jeffrey and Anthony Aylor; Nancy and Chris Many; Jesse Prince; Maureen Bolstad; Kendra Wiseman; Jenna Miscavige Hill; Astra Woodcraft; Caroline and John Brown; Jana Daniels; Donna Shannon; Gale Irwin; DeDe Reisdorf; Glenn Samuels; Teresa Summers; and many more whom I have yet to meet, such as Karen Pressley and Art Cohan. (If I left anyone out, please let me know and I will add).

Melanie Stokes and the late Alan Walter provided firsthand insight on the infamous Mission Holder's conference and the dismantling of the mission network in the early 1980s. Larry Brennan explained the corporate restructuring of the CoS.

Janet also found a wealth of information through the writings of others on Scientology-cult.com. And through posts on Moving On Up A Little Higher, she used information from Marty Rathbun and Mike Rinder, although neither granted Janet an interview. Some of those posts included, "Funeral for a Friend" and "Miscavige Black Ops Squad Hits Corpus Christi," "The Reformation," and "Murder Outs." She also used "What Impinges:  Survey Results" published on both websites in which Mike so aptly described "the vulture culture."

In addition to Scientology-cult.com and Moving On Up A Little Higher, Janet also drew from other authoritative websites including, Leaving Scientology and Ex-Scientology Kids.

Janet also garnered key information from luminaries including detectives, attorneys and key law enforcement personnel, not to mention journalists such as Joe Childs and Tom Tobin of the St Petersburg Times.

I don't know how she pulled it off, frankly. It was a Herculean task. I myself received 101 emails from Janet, most of which I answered in detail. How she managed to digest all that information… amazing. In addition, my telephone interviews with her in 2009 were something like 6 hours, as I recall.

Dan Koon and I spoke almost daily throughout 2009 while I was building Scientology-cult.com. And we often spoke about Janet's book. Since she was interested in our data, we saw her book as a chance to make the truth about David Miscavige known more broadly.

As you may know, LRH's opinion on journalists was not too high, having been burned I guess too many times by "writers" who already had their hatchet sharpened and angle written before they even interviewed him.  

As Janet pointed out, LRH was a showman and a storyteller. That is something we Scientologists overlook because against the value of the tech, such personality faults are trivial… because the only thing we rate as important is the workability of the tech. Against that, others factors simply cannot be compared.

However, journalists routinely stumble upon LRH's personality faults and his human errors and never actually duplicate the value of the tech. They weigh in so heavily on personality faults the net effect is to invalidate the whole subject.

I'm sure some of those journalists were simply trying to be fair. Others were paid to write a hatchet job by vested interests — happens all the time. A few were simply malicious.

In retrospect, perhaps the correct handling by LRH when caught in a white lie such as not really being a "nuclear physicist" would have been to freely admit the error.  Easy for me to say. I wasn't there. The remarkable thing is LRH was there. He carried Scientology a long, long way alone. He helped tens of thousands of people. Millions today are thankful he lived. Instead, LRH stopped communicating with the media, violating one of his golden rules: "Motion comes in, use and win." No one is perfect. I appreciate him none the less.

In Inside Scientology you're going to get a good dose of LRH's faults. Are these things healthy for you to see? Yes. If you are so shaky on Scientology that learning about LRH's faults is going to knock you out of orbit, then it's bound to happen eventually. You might as well get it over with. Not all of his alleged faults are true by any means, but many are.

And if you survive learning something about LRH's faults, the bright side is you will be all the stronger for it because nothing can trip you up.

Others of us are immune to personal criticism of LRH for reasons already stated. We aren't Scientologists because LRH was a good guy. We are Scientologists because the technology works and it enables us to solve problems nothing else can fix. But with a subject like Scientology, of course the founder's life is going to remain under the microscope for centuries to come. So get used to it. LRH wasn't perfect. So what? Who is?

Another thing you will find in the book is the OT III story. If you haven't heard of it, well, you might as well get used to that too. The data was leaked out on David Miscavige's watch and it isn't going to go away. However, contrary to popular belief that LRH said the data can make you ill, the fact is only mis-auditing the level can make you ill.

These sorts of issues more or less go with the Scientology territory. Here's what doesn't work: sticking your head in the sand. Here's what else doesn't work: trying to censor freedom of speech. Here's what does work: go ahead and learn about LRH's failings — they have nothing to do with the workability of the tech he developed.

As I have said before, if a car designer lied about where he went to school, does it mean the car he designed won't work?

So when it came to "talking to the media" in 2009 (meaning Janet Reitman), Dan and I discussed the matter and it was basically a no brainer: By speaking out, could we in fact make Scientology's PR any worse?

No — nothing could make Scientology's PR any worse!

We also felt it was significant in that we were presenting a new viewpoint: that the philosophy of Scientology had almost nothing in common with the inexplicable and ever offensive behavior of the Church. We made it clear the organization was in fact being run by a madman, who's actions were criminal at best.
Janet Reitman
Photo by Deborah Lopez
Dan spoke with Janet in April 2009 and told me about her. I sent her an email in April 2009 introducing myself. By that point Janet already had a rough draft of her book, but she said it was in desperate need of improvement. It was missing crucial points, both contextual and factual. The last third of the book was to deal with a subject nearly every other writer had shied away from, and continue to shy away from to this day… David Miscavige, his rise to power, his deeds and even life at the infamous Int base!

Janet said she wanted to look at LRH as both a man and as the founder of Scientology, and she also wanted to look at DM. Unlike so many before her, she had the courage to ask, "Who is this guy (DM) and how did he get where he is? And, what is he doing with his power and position? Is he truly a steward of the church, or is his controlling instinct destroying the church?"

She needed someone to help shed light on his character, particularly the early years 1984-89. She wanted to understand how this hostile takeover of sorts really worked. Who was Pat Broeker, and did he have supporters or a Pat Broeker "camp." And conversely, was there a David Miscavige "camp"?

In speaking with Janet over the phone, she seemed honest and rational. Yet, like moths to a porch light, few journalists are able to avoid mischaracterizing LRH and the tech and Janet is no exception. In my opinion, she does mischaracterize LRH and fails to appreciate the tech. Joe Childs and Tom Tobin, well, they are exceptions and for that I hold them in high regard.

Still, I decided if she got nothing right but at least helped expose DM, that would be a step forward since mischaracterizations of LRH and the tech itself are nothing new.

Her book includes a huge section at the back entitled "Notes." She stressed that not a single one of the people who contributed information like myself "had every spoken publicly prior to my interviewing them, nor had any of them pursued legal actions against the church or written a book." Except where specifically noted, all references to these people, their stories, and their quoted words came from her own interviews and conversations with them.

Inside Scientology is probably the best definitive work on the Church yet produced. It does what the church's book, What is Scientology? never could: namely, tell the truth.

Yes, David Miscavige micromanaged the writing of What is Scientology?

Janet spent five years researching and writing Inside Scientology. Some contributors, like Mark and Claire Headley began to help her as early as 2007.  Included in the book are factual but harrowing tales of abuse and escape.

Of course, as with any work of this nature, the reporting is colored by the input. But as an Independent Scientologist, it's incredible she got so much right. We are recognized as "part of a new 'Independent Scientology' movement: people who've remained true to the original theories and teachings of L. Ron Hubbard, though not to the current management of the church."

Janet reveals the FBI is currently investigating Scientology over the abuse allegations made by numerous Sea Org staff; the agency is also reportedly investigating David Miscavige for "inurement," or allegations that he has personally enriched himself with church funds… perhaps his $100,000 stereo system, or his numerous cars and homes.

Janet takes the reader into life at the Int base and documents the massive exodus of senior staff and executives throughout the 2000s. She covers intimidation and efforts to buy the silence of ex-Sea Org members. For example, David Miscavige's personal lawbot, Elliot Ableson, handed Stefan Castle a check for $25,000 to keep silent.

Considering that Janet is not a Scientologist, she is remarkably fair and evenhanded, but not perfect. Then again, who is?

Some errors: I think her history of LRH is slanted toward the idea that LRH used marketing and advertising to promote the religion. Well, duh. Since the beginning of time, everything uses marketing and advertising to promote anything. Early Christians used word of mouth, testimonials, letters of recommendation, tours, rallies, talks and more. So to me, it's a silly point to make and just seems to suggest that Scientology expanded because of good marketing, instead of due to the value of tech.

Likewise, she says the E-meter is not a new invention "contrary to Hubbard's claims" because it is actually a variation of a Wheatstone Bridge — a fact every Scientologist knows because LRH said so himself. But it's a small point.  There are other such minor errors here and there. She quotes ex-Scientologists such as one who knew LRH in the 1950s and later decided his only motivation was "money." Okay, whatever.

But on what I consider really, really important — the subject of David Miscavige and his rise to power, his abuses and excesses, Janet Reitman wins with a TKO.  Here Janet finally published what even the St Petersburg Times failed to print: that David Miscavige's handwriting was allegedly all over Lisa McPherson's auditing files. Janet covers the whole saga, weaving together data from eyewitnesses.

There are many other pluses, and of course a few minuses. She ends the book with the opinion of Natalie Walet, a college-age Scientologist currently taking courses at Flag. Natalie rejects defectors' claims that the environment was too corrosive. "So it really floors me that people saw DM doing this, if he did this, and didn't do anything. Shame on them for not fixing it."  Well, Natalie (she hopes to become a judge one day — God save us) what the hell do you think we are doing?

Personally, I think all clueless 23-year old Scientologists who "have heard terrible things" yet who are themselves doing nothing to correct those "terrible things" should simply decide they know best about everything and dismiss those who are actually working to correct the situation. Please feel free to assume we are just complaining (when in fact, we are actually using Scientology to audit the 3rd dynamic). I mean, why actually take responsibility for Scientology when you can just kinda play like you are taking responsibility for it, right, when in fact you are just doing some courses and not applying what you are learning? Kewl, right? Right? Just let the whole thing pass right over your head.

All told, Janet Reitman's Inside Scientology is a must read. She has sent an enormous boulder crashing through the glass house of Miscavige; those pink legs sticking out… well, I think you know whom they are attached to. It's a strong statement that ultimately will help further our cause as Independent Scientologists. Read the book for yourself and see what you think.
Written by Thoughtful
Blogs -
Thoughtful
Friday, 10 June 2011 20:00
Ed Bryan: Scientology spy, messenger of hate
In crime and law, hate crimes (also known as bias-motivated crimes) occur when a perpetrator targets a victim because of his or her perceived membership in a certain social group, usually defined by racial group, religion, sexual orientation, disability, class, ethnicity, nationality, age, gender, gender identity, social status or political affiliation.

"Hate crime" generally refers to criminal acts that are seen to have been motivated by bias against one or more of the types above, or of their derivatives. Incidents may involve physical assault, damage to property, bullying, harassment, verbal abuse or insults, offensive letters or email (hate mail).


| | |
| --- | --- |
| | |
| | Ed Bryan |
If you've been reading the comments in Marty's blog, you know that at 7:15 pm, Wednesday, June 8, 2011, Michael Fairman (the well-known actor) was seated at his computer quietly reading Marty's blog when the doorbell rang.

At the door were three "Squirrel Busters" and a camera. "Michael, I'd like to speak to you" one of the busters asked, rather pleasantly. Not having a camera in hand, Michael replied, "No, get outta here — I'm calling the cops!" and shut the door in their faces.

Two policemen arrived minutes later. They were given a brief history of the "Squirrel Busters" and grasped the situation immediately. They understood the Church of Scientology was engaging in a hate crime in retaliation against whistle blowers.

The police provided the tools and communication lines to deal with the CoS agents. They said to report the incident as an intentional HATE CRIME using visceral epithet "squirrel" and visiting for purpose of harassment. Calling an Independent Scientologist a "squirrel" falls into the same category as racial slurs.

The event was filed as an incident with the Van Nuys Police Department. The officers were also made aware of what had happened in Santa Monica last Tuesday, that the Church of Scientology was also behind those hate crimes, and that video evidence exists.

Michael went on to brief the Senior Lead Officer at the Van Nuys Police station so that all police stations in the San Fernando Valley will be apprised of what occurred. Should there be another visit or series of visits, the record will show the original filing so that legal steps can be taken. The police explained that the laws which apply to the paparazzi also apply to the aforementioned events.

Right on schedule, the very next day, about 7 pm, three people rang Karen de la Carriere's doorbell on OSA's behalf asking to see her. They said, "We are making a documentary."

Because she knew in advance they were coming, she had a reception committee on hand to welcome them. The Church agents arrived in a black Acura SUV, California license plate 6EYN337. The license plate allegedly revealed the owner to as Ed Bryan, an OT VIII who owns Bryan Exhaust Hood Cleaning, 2808 North Naomi Street, Burbank, CA 91504. Attached to the back driver's side of the car was a magnetic sign that read "Squirrel Busters Productions."

Like Michael, Karen got in her report to the LAPD.
Additionally, once Marty saw the photo that Karen's PI friend turned up, Marty recognized Ed Bryan as having covertly eavesdropped on his conversation on him while in California. "This is the guy who was in the booth behind us at the restaurant," Marty added in an email. "He was with a woman I did not recognize. I asked others at our table if they had ever seen this guy, because his face looked familiar. So, Karen, that reptilian loser spied on our dinner at P. F. Chang's in Santa Monica a couple weeks back. These people are damaged; very damaged."
Thoughtful
Last Updated on Saturday, 11 June 2011 17:08
Blogs -
Joe Howard
Monday, 25 April 2011 20:25
Any Scientologist who was around during the 1970s will fondly remember the old HQS Course.

It cost $75, took forever to do and cost orgs and missions the earth to deliver. It was the all-time loss leader, and if organizations had been allowed to deliver no other services they would have gone broke in no time.

But there was great wisdom in that HQS Course and great results: nearly everyone who did it became a Scientologist and considered themselves firmly on the Bridge and went on to other auditing and training services. That course made Scientologists by the thousands and had far fewer drop outs than the Div 6 TRs Course that usually preceded it.

In the 1980s, the course was revised in its entirety based on no evaluation and no review of the tremendous results of the 1970s course. The new course contained much less co-auditing, cost many times more and was not piloted to any extent, certainly not enough to determine how it would affect the lineup of Div 6 services for people newly interested in Scientology. In that regard the new HQS Course was a disaster.

As the RTRC compiler of that 1987 pile of crap* I am helping to right that wrong now with a new--well, actually old--HQS Course for use in the Independent field. The successful 1970s HQS was compiled by perhaps the most successful, visionary Div 6 Scientologist of all besides LRH himself, his daughter, Diana. For years, Diana was Commodore's Staff over Div 6 and developed several big think strategies for the field. She compiled the HQS Course in 1972 and this is the basis of the course we are making available again today. The 1972 course contained a survey of Scientology basics and included training on TRs and lots of co-auditing on Objective Processes as well as Self Analysis Lists which made brand new Scientologists into experienced co-auditors. All this has been resurrected on this new course. Her 1972 course had a section at the end that oriented the student to Scientology organizations and we have broadened that in this new version to orient the student to life as a Scientologist.

The basic principles presented on the course and the incredible co-auditing that a student gives and receives, definitely enable anyone to make up his or her mind about Scientology. If a person only did this course and no other, they would know for certain either a) that Scientology is something that is beneficial in their life or else b) that it isn't, and can move on knowing they had invested enough of their effort and time to have made an honest assessment.

From my experience, though, nearly everybody concludes the former.

Best of luck to everyone who downloads and avails themselves of the new Independent Hubbard Qualified Scientologist Course.
Click here to download Dan's new IHQS Checksheet.
Dan Koon
John Aaron Williams

*Note: While Dan compiled the 1987 version of Diana's original course from the 1970s, what actually happened was this: David Miscavige (who else?) "knew best" and decided the original HQS Course took too long. So, Miscavige ordered the old course be replaced and the dirty work fell to Dan. — Thoughtful
Blogs -
Thoughtful
Monday, 04 April 2011 03:07
by Thoughtful

As you may have heard, Louis Farrakhan is encouraging his members to discover and utilize Scientology to help each other and to make a better world.

http://www.finalcall.com/artman/publish/National_News_2/article_7697.shtml

For the few hundred people who have so far learned a little Dianetics, that is great news.

But that doesn't mean Independent Scientologists should back down in our efforts to force the Church to follow the fundamentals of its own philosophy… on the contrary, there is now even more reason to step up our efforts to protect the public at large.

The CoS must apply real LRH Scientology all the time and universally.

Inside skinny
Here is the embarrassing (to the CoS) inside skinny. The orgs, being moribund due to having driven off older Scientologists thanks to the org's continual illegal and corrupt practices, are beginning to experience a new influx of Moslems who want to study LRH. Most of them are studying Dianetics and some are moving on beyond that.

But if you really want to know what's going on at org level, then you need to talk to staff. And I have.

Every Moslem on course in any Scientology org is tagged in the computer as "NOI" meaning "Nation of Islam." The tag means "HANDS OFF!" to all staff and that order comes straight from the top (David Miscavige). NOI people are not to be crush sold for illegal Idle Org donations. They are not to be crush sold for illegal donations to the IAS. They are not to be crush sold for donations to the Super Power project. No one can touch them. But it's mandatory for everyone else!

How do I know all this? I got it straight from a Class V org staff member who quit the CoS only days ago and has joined the ranks of Independent Scientology. It was a great chance to peer behind the curtain and have a look at the Wonderful Wizard... so wonderful that in this particular Ideal Org -- announced in grand style last year by David Miscavige -- two weeks ago the power company nearly shut off the power because the org was unable to pay their electric bill. But in true Miscavige style, they made it go right: hitting up the staff members themselves (who haven't been getting paid) for money to keep the lights on. Way to go David Miscavige and his Idle Org program! That's really taking Scientology to the streets. Or maybe into the gutter. Not only that, but in answer to a query as to why there aren't any public coming into the org, the Public Contact Secretary said, "The FSMs just don't come in any more." I wonder why?

Tagged as NOI
So what do you think is happening with these people from the Nation of Islam?

Well, since they are actually being allowed to go into the CoS and do their services without interruptions or distractions -- the way LRH intended new public to be treated --  they are in fact experiencing Scientology the way LRH intended. So in the main, I have it from my source that they are actually pretty pleased so far with Scientology. Their experience has been good. 

Now can you imagine that?

With a gigantic new influx of students and pcs and money, the CoS is finally doing what we've been trying to get them to do since early 2009.

The only problem is, the CoS is doing it selectively.

If you are not part of the Nation of Islam, then you are fair game and the IAS sales crews will even show up at your home or business demanding you give every last cent and then some as happened with Rex Fowler, correct me if I'm wrong. So that's pretty messed up.

The CoS needs to treat everyone according to how LRH set down in Policy. The guiding reference for how to treat new people is HCO PL Gradient Scale of Personnel Procurement.

New people are supposed to buy and read books.
Book buyers are encouraged to get auditing.
PCs are encouraged to get onto training.
Auditors are encouraged to become Field Staff Members or field auditors or start groups or join staff.
And that's how it works per LRH.

Notice no where does LRH ever say anyone is to be regged for straight donations for anything for any reason. The ONLY source of CoS income is (click to see the LRH reference) sales of auditing, training and books.

So to those members of the Nation of Islam who are now discovering LRH tech, welcome. But do not go into the Church like a wide-eyed virgin, trusting that everyone is going to follow LRH.  Watch your back because the guy who took over the Church of Scientology after LRH has a very, very, very bad record of physical, mental, and spiritual abuse.

Always observe to observe and have the courage to say what you have observed. Per LRH, what is true for you in Scientology is what's true for YOU. And if you see something that does not make sense, speak up. You'll be glad you did.

Miscavige brand VIP treatment

For the rest of us, here is what I predict sly Miscavige will do. He will make sure these public get the "ideal experience" normally reserved only for VIPs. He's been doing it for years. It is, after all, his op basis:

1. Apply standard Scientology to gain people's trust.
2. Once trust is established, employ Scientology in reverse to damage their integrity, break their will and make them into Degraded Beings*.
3. Extract everything possible out of them and never give a second thought to their personal welfare.
4. If you can't break them, then discredit them.

*From HCOPL, "Alter-Is and Degraded Beings" of 22 March 1967:

"A degraded being is not a suppressive as he can have case gain. But he is so PTS that he works for suppressives only. He is a sort of super-continual PTS beyond the reach, really, of a simple S&D and handled only at Section III OT Course. …

"In an area where suppression has been very heavy for long periods, people become degraded beings. However, they must have been so before already due to track incidents.

"Some thetans are bigger than others. None are truly equal. But the degraded being is not necessarily a natively bad thetan. He is simply so PTS and has been for so long that it requires our highest-level tech to finally undo it after he has scaled up all our grades.

"Degraded beings are about eighteen to one over Big Beings in the human race (minimum ratio). ...

"This is really OT data, but we need it at lower levels to get the job done." — LRH

So what the NOI people are actually experiencing is NOT standard Scientology at all. It is artificial. What these NOI people don't realize is that they are being treated differently from everyone else.

This is how Miscavige creates people he can use. It's called, "Fake 'em out."

What does Manipulator Miscavige plan to do with them? Who knows. One possibility is that the CoS has finally "come to their senses" and decided to stop being suppressive. If so, they must follow Steps A to E. Since they haven't even vaguely started to do that, this is definitely not in the realm of possibilities right now.

Other more plausible possibilities based on past performance include,

1. Miscavige is going to unleash his IAS hit squads and drain these people of every last cent as soon as he has won over their trust.

2. When the time is right, Miscavige will send in his body snatchers to recruit their unwitting children and once on staff, employ Scientology in reverse to turn them into degraded beings.

3. Miscavige plans to use the Nation of Islam against his enemies and the media. Think Eric Cartman, the overweight, spoiled, lazy, foul-mouthed, mean-spirited, racist, sexist, anti-semitic, sociopathic, narcissistic, and ill-tempered fourth-grader living with his mother in the fictional town of South Park.

4. Miscavige is hoping to gain subsidies and financial support directly from the coffers of NOI.

5. All the above.

As they say down in Africa, "The leopard does not change her spots."

Written by Thoughtful
Blogs -
Thoughtful
Wednesday, 19 January 2011 20:48
I received the following letter yesterday from James R. Lewis, a religious scholar who has written several papers on the Church of Scientology. I am publishing his article in full without alteration. - Thoughtful

18 January 2011
An Open Letter to:
Scientologists, Ex-Scientologists, and Critics of the Church of Scientology
James R. Lewis

[This letter may be re-posted, as long as it is reproduced in full, without alteration. JRL]

I am an academician and a specialist in the field of new religious movements. Particularly during my early career, much of my research focused on the alternative religions that have been labeled "cults," and on the controversies in which they have been involved. Though I have sometimes been criticized as a "cult apologist," in point of fact my views on such groups are nuanced and often critical (in this regard, refer, for example, to my online essay, "Safe Sects?" http://www.religioustolerance.org/safe_sec.htm). It should especially be noted that my views on these matters generally conform to the consensus views of mainstream scholars of new religions (i.e., my views are not unique to me). As an academician, my primary audience has been other academicians. Thus, over the years, I have ignored the often ad hominem criticisms that have been leveled against me online by individuals involved in the cult controversy.

However, two things have happened in recent years that have prompted me to address these matters – particularly as they involve the Church of Scientology (CoS) – in a more personal way: (1) My edited collection on Scientology, published by Oxford University Press in 2009, had the effect of raising my profile in the cult controversy. (2) As the result of the defection of large numbers of upper level Scientologists, the Church of Scientology has received increasing media attention – which has had the effect of calling further attention to my Scientology anthology. Thus it seems that circumstances have been pushing me to set forth some of my views on CoS – both academic and personal – in a public way. Hence the current "open letter," which I hope will be widely distributed (and not quoted out of context).

I should preface my remarks by noting that academicians are ill-suited to participate directly in public controversies, in part because, as a group, we do not think in sound bites. Also, in almost any controversy, all sides of the conflict tend to boil issues down to black-and-white, good-vs.-evil terms, and sometimes adopt a belligerent attitude of "you're either for us or against us." I anticipated this reaction when, in the introduction to the Scientology anthology, I asserted that "This volume will...likely end up pleasing no one engaged in the Scientology/anti-Scientology conflict...."

Predictably, critics trashed the book as a public relations exercise, "obviously" paid for by the Church of Scientology. However – as any informed observer could easily have anticipated – CoS hated the collection, particularly the Xenu chapter, which one of my former contacts in the Church characterized as "blasphemy." Another chapter described CoS's attempts to suppress scholarship that the Church viewed as presenting Scientology in a negative light. And there were other critical evaluations peppered throughout the text. But, because the book as a whole was not a negative exposé, many anti-Scientologists dismissed the whole collection as a "whitewash." For its part, the Church of Scientology soon stopped communicating with me altogether, meaning that I have probably been re-categorized as an SP as a direct result of my book.

In this Open Letter, I will not rehearse the social-scientific analysis of the cult controversy that is the consensus view of mainstream new religion researchers. Rather, I will focus the discussion on my evolving understanding of the Church of Scientology.

Neither I nor the great majority of new religions specialists view ourselves as defenders of groups like Scientology. Rather, we are interested in understanding social-psychological processes and the dynamics of social conflict. The fact that many of our analyses undermine the more simplistic accusations leveled against controversial new religions makes it appear to critics caught up in black-and-white thinking that we have made a conscious choice to defend "cults." However, to the extent that we have chosen to defend anything, we understand ourselves as defending good science against bad science, and, in some cases, as defending religious liberty against the threat to religious liberty posed by the least sophisticated forms of anti-cultism.

My orientation to the study of new religions is informed by the fact that, for three years in my early twenties, I was a member of a controversial new religion, Yogi Bhajan's 3HO (I have recently described my defection from 3HO in an online article, "Autobiography of a Schism" http://www.uni-marburg.de/fb03/ivk/mjr/pdfs/2010/articles/lewis_2010.pdf). Though I held certain negative feelings toward my former organization after my exit, these feelings were on par with the feelings one might have about one's ex-spouse following a divorce (i.e., bad, but not extraordinary). Additionally, I had a number of positive experiences during my term of membership in 3HO that served to balance out my negative experiences.

When I first became interested in the cult controversy as a subject of academic inquiry in the mid 1980s, I was struck by the uniformly negative picture painted by "deprogrammed" ex-members of controversial groups – a picture that contrasted sharply with the mixed evaluation I had formed of 3HO. I suspected these negative evaluations were shaped, at least in part, by the deprogramming experience itself. So I surveyed former members – both deprogrammed and non-deprogrammed – and found that the data strongly supported my hypothesis. (In this regard, refer, for example, to my "Apostates and the Legitimation of Repression," Sociological Analysis 49:4. 1989, and my "Reconstructing the 'Cult' Experience," Sociological Analysis 42:2. 1986. Parts of these papers reappeared in my Legitimating New Religions. 2003.)

I first made contact with the Church of Scientology during this period for the purpose of locating former Scientologists to whom I could send questionnaires (this never worked out because of CoS's ill-conceived policy of disconnecting itself from ex-members). A few years later, the Scientology organization became enthusiastic about the conclusions I had reached, and later referred to my research in some of its legal cases – in large part due to the fact that this research called into question the hostile testimony of deprogrammed former Scientologists.

CoS subsequently decided that I was an 'ally' (a quasi-technical term within the universe of exotic Church jargon). From that point forward, I was sometimes (but not frequently) asked to write letters of support, usually in response to specific conflicts. I was also once asked to testify as an expert witness in a Scientology court case (to which I agreed, though I never did testify). Additionally, during the years I lived in Santa Barbara, California, I attended various Church events, particularly events at the Hollywood Celebrity Center. Finally, during the ten years I lived in the Midwest, I regularly invited Scientologists from the Chicago Org to speak in my university classes. (As part of my approach to teaching courses on new religions, I invited representatives of many different groups to speak in my classes – not just Scientologists.)

I was, of course, aware of CoS's unpleasant history, particularly its often vicious attacks on perceived enemies. But, as I got to know Scientologists on a personal basis, I was informed – and came to believe – that the illegal and truly onerous attacks had been discontinued following the dissolution of the Guardian's Office in 1983. (Unfortunately, the systematic harassment of high-profile ex-members and other critics has become de rigueur in recent years.) And while I disliked certain aspects of Scientology – particularly certain aspects of the Scientology organization – my personal experiences with Scientologists over the course of the past two dozen years have been generally quite positive. As a result of my recent book and as a result of this letter, they may never speak to me again, but I still like and respect almost everyone I knew within the Church.

One aspect of the organization that particularly impressed me was the Church's social outreach activities, such as the Literacy Crusade and Criminon. Though often dismissed by critics as "front groups," or as elaborate PR exercises, it is clear that, at Source, these activities are serious enterprises. At several junctures over the years of my acquaintance with CoS, I even requested support for undertaking an academic study of these enterprises. These requests were always denied (for which, in hindsight, I am exceedingly grateful).

I was not prompted to re-think my basic evaluation of the Church of Scientology until relatively recently. This came about as a consequence of several different factors:

(1) The defection of large numbers of long-time, high-ranking Scientologists, who reported intensive abuse at the highest levels of the Church. I am aware that CoS's position on this has been to deny everything, and to accuse these ex-members of conspiring to concoct a negative picture of events. I find the official response unconvincing.

(2) The sacking of Heber Jentzsch. I knew Heber from when I first began to communicate with CoS in the mid 1980s. I respected him and came to regard him as someone I could trust. Retrospectively, I can now see that my evaluation of Heber significantly shaped my evaluation of the Church. So when he was taken off the front lines and consigned to some dungeon (figuratively speaking) in Gilman Hot Springs, it served to confirm, to my mind, what the high-ranking defectors were saying.

(3) The marketing of "new editions" of L. Ron Hubbard's basic works. New, slightly "corrected" editions of Hubbard's basic books have been issued, and Scientologists have been asked to purchase as many sets of volumes as possible so that complete sets can be donated to libraries across the globe. This has been done in the name of the utopian ideal of "clearing the planet." But placing books in libraries seems an ill-conceived strategy for spreading any sort of message in a digital age. I was a guest at a Scientology workshop not too many years ago where I observed the very hard-sell tactics used to unload these multi-volume sets. It was transparent that this was a fund-raising ploy rather than an effective strategy for disseminating the message. Though I know Scientology has regularly been accused of using unethical methods for raising money, I felt that this was a particularly disingenuous tactic – and yet another symptom of the dysfunctionality of the Church's top leadership.

This Open Letter is not an apology for anything I have written in the past on Scientology or on the cult controversy. I stand by, and am quite happy with, my body of work up to this point. Rather, in light of new information I have been receiving on the Church of Scientology, there are certain aspects of my scholarship that I would like to clarify and supplement as they bear on the current controversy.

In the first place, I should say that the only article-length paper I have ever written on CoS is my chapter on the growth of the Church in the Scientology anthology. In that piece, I criticized the claim that Scientology was the "fastest growing religion in the world," but I also painted a picture of an expanding organization enjoying healthy growth. Though the statistics I collected (from the U.S., the U.K., Australia, Canada, and New Zealand) did not go beyond 2001, more recent data from the 2006 New Zealand and Australian censuses have continued to support this picture.

However, current events have completely overturned my evaluation of the CoS as a rapidly expanding religion. The relatively recent defection of large numbers of long-time, high-level Scientologists – some of the organization's most experienced administrators and others with expertise in delivering the highest levels of Scientology technology – bodes poorly for the future of the Church. In particular, the pattern of solid growth I analyzed just a few years ago seems suddenly to have ground to a halt.

According to the pseudonymous 'Plockton,' who claims to have contacted ARIS (American Religious Identification Survey) researchers directly, the ARIS estimate for the number of Scientologists in the U.S. for 2008 was 25,000. (I referred to ARIS data in my chapter on the growth of Scientology.) This contrasts sharply with the 55,000 figure from the 2001 ARIS survey. ("2008 ARIS Study on Scientology Membership in US – Important Data." Posted March 28, 2009 at: http://ocmb.xenu.net/ocmb/viewtopic.php?t=30372.) The drop in total numbers was likely less dramatic than these figures indicate (due to sampling issues discussed by Plockton in his posting).

In 2011, there will be new national censuses in the UK, Canada, New Zealand, and Australia, all of which will produce figures for total numbers of self-identified Scientologists. So by 2012, it will be relatively simple to contrast these numbers with prior census data. The figures derived from these comparisons will indicate whether membership in the Church of Scientology is growing or declining. Assuming the latter, these statistics should decisively refute David Miscavige's claim that, under his leadership, CoS has become "the fastest growing religion in the world."

Secondly, I have seen my research on former members of controversial new religions misrepresented. To clarify what should already have been transparent: The central point of comparison in my several articles on new religion apostates was between deprogrammed ex-members and other ex-members who left their respective movements on their own, without outside intervention. As mentioned earlier, I found a highly significant difference in the post-involvement attitudes of these two sets of apostates, a difference that called into question the veracity of statements made by deprogrammed ex-members about the religious groups to which they had belonged. My questionnaire data had nothing to say about individuals who defected without this kind of an intervention, except that they were likely more objective about their membership period than their deprogrammed counterparts. So, to be perfectly clear: anyone who cites my conclusions about deprogrammees as a way of dismissing the testimony of voluntary defectors – including the testimony of individuals who left the Church of Scientology – is either consciously misrepresenting my work or stupid.

Finally, another criticism leveled against the Scientology anthology was that it should have included a chapter on ex-Scientologists, and perhaps another chapter on the Freezone. I think this is an appropriate critique. I will therefore be undertaking systematic research on former Scientologists and on the Freezone – research that will be reported in future publications. If any ex-CoS members reading this Open Letter think they might be interested in participating in this project, please contact me at: This e-mail address is being protected from spambots. You need JavaScript enabled to view it .
James R. Lewis
<<

Start

<

Prev

1

2 3 4 5 Next > End >>


Page 1 of 5